Looking to buy a MiniVan? The original is not longer produced but dozens of MiniVan-compatible cases and PCBs exist to help you build your own.

Check the Home page for links to active group buys and in-stock parts.
Scroll down to the PCBs and Cases sections for links to more pages with info on specific components.
Originally known as TheVan44, MiniVan is the original 12.75u 40% keyboard. It is the first keyboard designed by TheVanKeyboards.
The first MiniVan group buy sold 50 units; each kit contained TheVan44 PCB, an aluminum case and plate, plate-mount stabilizers, and assembly hardware. Following the early success, a round 2 group buy was run through MassDrop with an updated case and PCB. Several more rounds of group buys as well as in-stock kits and individual parts were sold as in-stock items on TheVanKeyboards.com.
Following the closure of TheVanKeyboards.com, TheKey.Company acquired exclusive rights to produce and sell MiniVan, including several TVK-designed PCBs and cases. As a result, new MiniVan-compatible products that have been designed by Trash Man have avoided using the name "MiniVan" and the "Van" suffix altogether. After deciding to implement port scanning on future PCB designs, Trash Man has adopted a nautical-themed naming scheme for some new projects (e.g. Ketch, Skiff, and Hull).
On June 11, 2021 - 555 days after acquiring the rights to MiniVan - new MiniVan keyboard kits were finally made available for purchase directly from TheKey.Company. Kits include the same hotswap PCB that TheVanKeyboards previously sold, the same injection-molded plastic case in four of the original five colors, an aluminum switch plate, a cable, and assembly hardware.
According to the creator, the original design goal for MiniVan was to create a unique 40% keyboard that could be used as a daily driver. The design objectives were as follows:
Staggered layout
Needed the forward slash key
Stick as close to QWERTY as possible
Two function layers accessible from either side of the keyboard
Split spacebar
More information can be found about the history of the design on this archived About Us page from TheVanKeyboards.com


MiniVan is traditionally a tray mount keyboard that uses M2 screws to secure the PCB to the bottom case. This allows users to build the keyboard with or without a switch plate depending on their own preferences. Multiple MiniVan-compatible PCBs have been developed by TVK/Trash Man and several community members that are drop-in replacements for MiniVan cases. Many of these new PCBs add more layout options and implement features like PCB-mount stabilizers, USB C, RGB indicators, and Kaihl hotswap sockets. Several different and unique cases that support MiniVan PCBs have also been designed and produced with various materials and mounting methods.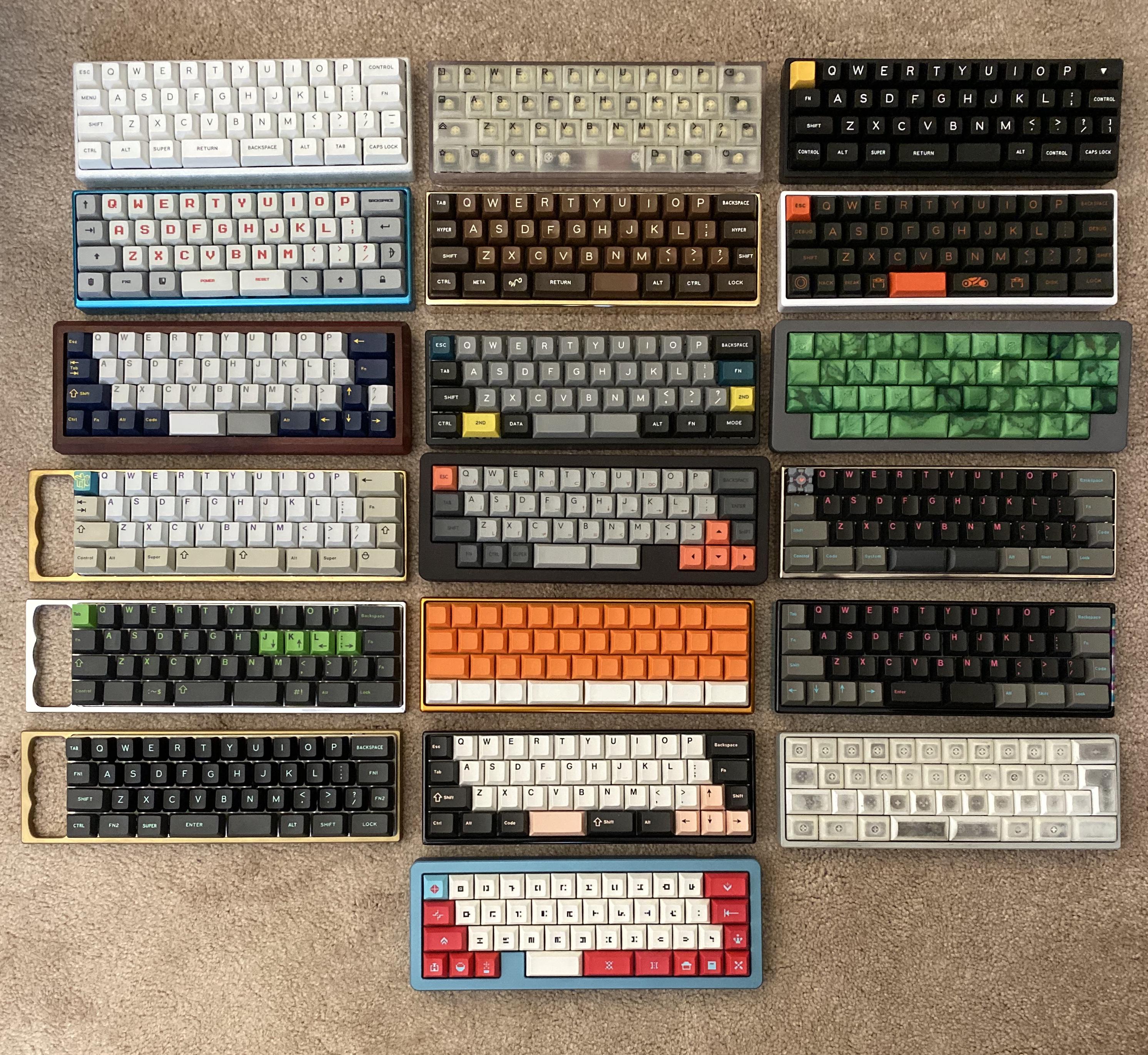 Firmware can be generated using Trash Man's Configurator.
KLE available here: http://www.keyboard-layout-editor.com/#/gists/b6d6a56c69e3d90da893288694332229
Nearly all MiniVan PCBs support multiple bottom row layouts to allow for flexibility and customization dependent on each user's preferences. Every board does not support every layout shown below. Information about supported layouts for specific PCBs is available on the pages linked in the PCBs section below.
Keycap compatibility is commonly an issue for MiniVan and its derivatives. There are three non-standard keys shared by all MiniVan layouts that are required for proper coverage. Keycap sets that include all three of these keys (with or without proper legends) are considered "3-key compatible":
row 2 1.75u Backspace - this is commonly referred to as the "MiniVan key" or "gamer backspace"
row 3 1.25u (usually Tab)
row 3 1.5u (usually Enter or Fn)
A fourth key - row 2 1u Esc - is sometimes included and referred to as "4-key compatible". This is not a hard requirement as many base kits include row 2 1u keys from the TKL navigation cluster such as End and Del.
3-key/4-key compatible sets will generally cover a MiniVan and other boards with MiniVan-based layouts such as Oceanographer and Bepovan. There are some keycaps sets that omit one or more of these keys - even from dedicated 40s kits. In response, TtocyobItna and 40700 were designed to stretch the MiniVan layout with larger, standard modifiers found in most modern base kits.
Support for these layouts can be found on nearly all TVK/Trash Man designed MiniVan PCBs
Standard - 1.25/1.50/1.25u bottom-left, 2.25/2u split spacebar, 1.25/1.50/1.75u bottom-right

Arrows - The 3 keys in the bottom-right are replaced with 1.5/1/1/1u to allow for a traditional orthogonal arrow key arrangement

Southpaw - The 3 keys in the bottom-left are replaced with 4x 1u keys. Nobody knows why this is called "southpaw", not even Trash Man himself

Southpaw + Arrows - both the left and right sides of the bottom row are swapped for Southpaw and Arrows layouts, respectively

These layouts require custom keycaps or stabilizers and may not have explicit support in the configurator
425 Spacebar - a 3D printed 4.25u HuB spacebar spans across both spacebar positions. This requires the use of a custom-bent stabilizer wire. The 4.25u spacebar is also compatible with the Arrows and Southpaw layouts.

JISVan - a 3D printed 1.5u/1u JIS/ISO Enter style key is installed on the right side of the middle two rows. This may require a 2u PCB- or plate-mount stabilizer on supported PCBs

900 Spacebar - a 3D printed 9u HuB spacebar is installed on the 2u spacebar switch position. This layout requires a 7u plate-mount stabilizer for all PCBs

Trying to determine case compatibility for your PCB? Check out the MiniVan Compatibility Matrix
There are three iterations of the MiniVan PCB that was included in complete kits. Some models were also sold as standalone PCBs on TheVanKeyboards.com.
TheVan44 - The original PCB that was included with the first few rounds of group buy kits
Low Rider - A revised board that includes support for PCB mount stabilizers and adds new layout options
MiniVan HS - A completely redesigned PCB that adds Kaihl hotswap sockets and RGB indicator LEDs
¶ Standalone PCBs
Several other PCBs designed by TheVanKeyboards/Trash Man have reimagined what is possible in the MiniVan form factor.
BigBoi - A prototype produced to test the usability of large (9u+) spacebars and introduced a unique ortholinear layout
JetVan - A MiniVan-compatible PCB with a single layout based around a full-size 6.25u spacebar with arrow keys
Ketch - A new PCB built from the ground up to support portscanning
Multiple community members have designed their own PCBs for MiniVan cases and have brought unique features and layouts.
Plate files and case dimensions can be found on the Files page
Trying to determine case compatibility for your PCB? Check out the MiniVan Compatibility Matrix
There are two case variants that were included with MiniVan kits sold during group buys
¶ Standalone Cases
TheVanKeyboards/Trash Man designed and produced multiple standalone cases that were sold without PCBs
There are several community members that have designed their own MiniVan-compatible cases that bring unique features and mounting syles