MiniVan-HS was the third PCB designed for the MiniVan keyboard. It premiered with the release of the KUMO keyboard that was sold on Kickstarter. It was the first TheVanKeyboards PCB to include Kaihl hotswap sockets.
The MiniVan-HS PCB was a hotswap PCB based on on a design to the original TheVan44 PCB. It featured a white solder mask and black silkscreen. The front of the board contained no components. The back of the board contained all components including Kaihl hotswap sockets for every possible switch position. The backside of the PCB also included the name of the board, revision number, and the text "Designed by TheVan Keyboards".
All switches in the top 3 rows are arranged in the north-facing orientation. Since Cherry MX switches are square and can work in any orientation, the bottom row includes a mixture of north-, east-, and west-facing switch locations with corresponding hotswap sockets arranged as needed to allow for hotswap support on all layouts.
The following MiniVan PCB layouts were supported by all models of the Low Rider PCB: Standard, Arrows, Southpaw, Southpaw+Arrows, 425 Spacebar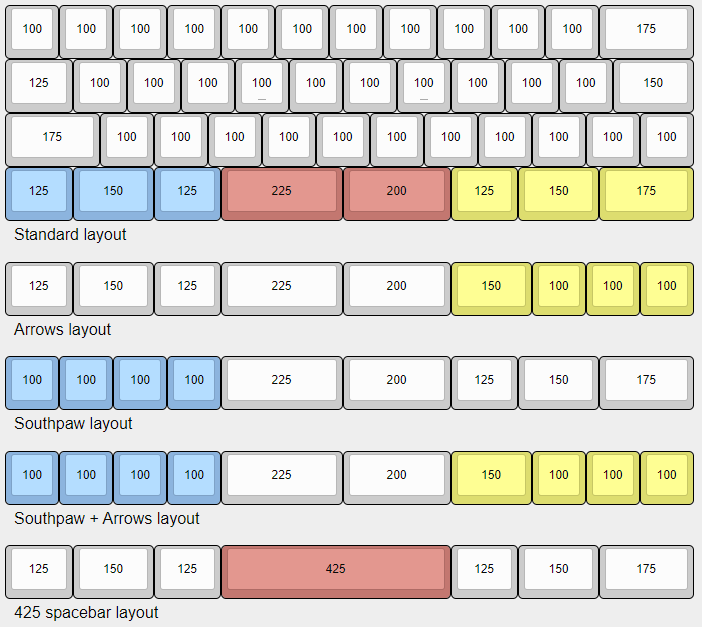 Not sure what changed with Rev 1.1. There were B-stock PCBs at one point that only worked in one orientation maybe this fixed it?
Expand for pictures

Front of the MiniVan HS Rev 1.1 PCB




Back of the MiniVan HS Rev 1.1 PCB
Killer silkscreen