Model-V is an extra-flexy MiniVan-compatible PCB designed by community member matthewdias.
A group buy for standalone Rev 1.0 PCBs ran in July and August 2021 for $32 per PCB.
Rev 2.0 Model-V PCBs were available for $30 during a group buy for the P⁴KCR3 case in September 2021.
More info about the PCB can be found in the #p4kcr3 channel on the 40% Keyboards Discord server.
Model-V is a drop-in replacement PCB for MiniVan cases. It is designed for maximum flexibility with three "flex cuts" across the alphas section of the PCB between each of the rows. Early revisions of the board were 1.0 and 1.2mm thick to further increase the amount of flex when compared to a typical 1.6mm PCB. Due to the location of the flex cuts, only the 4 outer screw holes for tray mount cases can be used.
The board uses a USB-C connector to connect to the host. The port is located in the top-right to ensure compatibility with MiniVan cases.
Model-V ships with VIAL support. VIAL-compatible firmware is available here: model_v_vial1.hex
KLE available here: http://www.keyboard-layout-editor.com/#/gists/c82b457e78006c7c56128bf0ad182f74
Model-V features a unique combination of layouts that are inspired by several other Minivan-compatible PCBs. The board fully supports JetVan layout with a 6.25u spacebar and supports modified versions of the MiniVan Arrows layout and m3n3van's 3u/3u split spacebar layout. A 4.25u HuB spacebar is also supported in place of the 2.25u/2u split layout
Tray mount cases have a standoff that will interfere with the stem of the 1u key located to the left of spacebars on 2.25u/2u and 4.25u layouts
Check the MiniVan Compatibility Matrix for case compatibility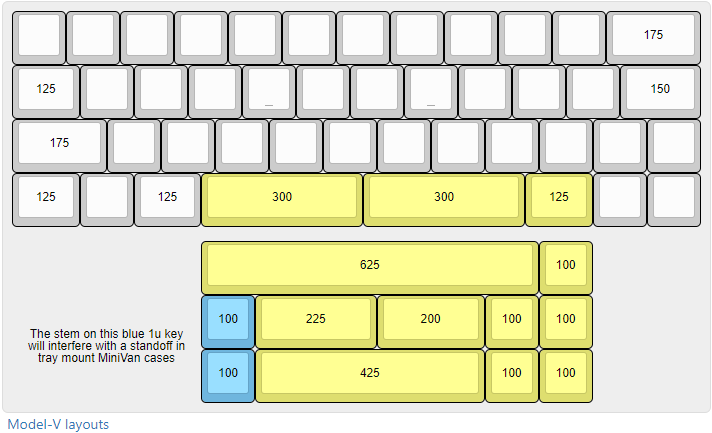 Five 1mm thick prototype units were produced to confirm fit and functionality (the original design called for an even slimmer 0.8mm PCB). The boards are black with a stylized handwritten "MODEL-V" silkscreen on the rear. ai03 stabilizer shims were validated for compatibility with PCB-mount stabilizers.


The first production boards for Model-V are 1.2mm thick. The increased thickness was required as the 1mm prototype PCBs experienced bottom-out in almost every case that they were tested in. The boards are black with the same handwritten "MODEL-V" silkscreen on the rear.
After fitment testing it was determined that most PCB-mount stabilizers work with the 1.2mm PCB and do not require the stabilizer shims that the prototype needed.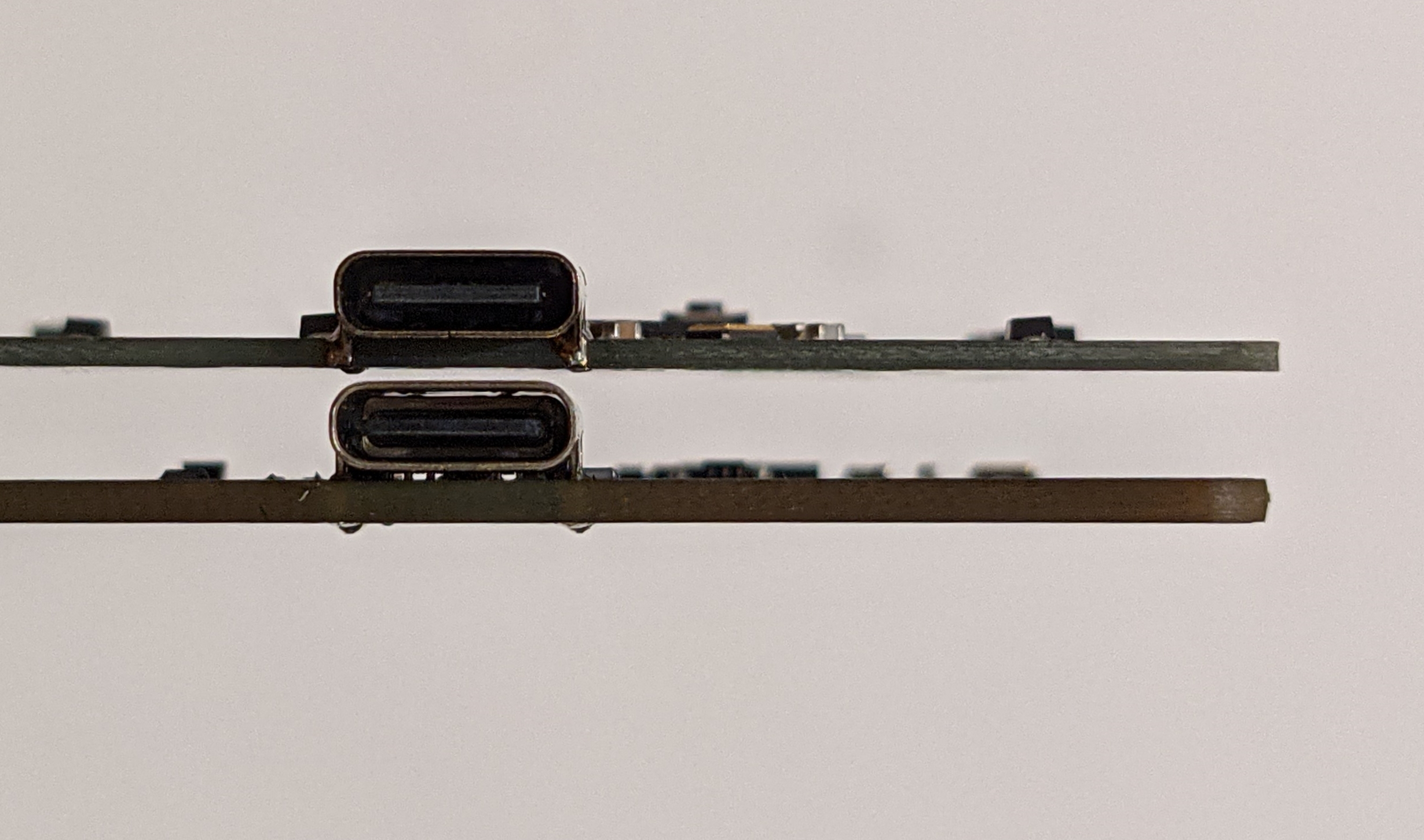 PCBs sold during the P⁴KCR3 group buy feature an increased thickness of 1.6mm. The thicker design was chosen after it was determied that the thinner Rev 1 PCBs were still too flexible, causing bottom out during normal typing for many users with Founders Edition P⁴KCR3 cases.
The boards are blue with white silkscreen details. A new space-themed artwork was designed for the front of the PCB.