Lesovoz kits are available for $35 at SquashKB
Lesovoz (officially named "лесовоз") is a through-hole ortholinear MiniVan-compatible PCB designed by community member squashkb.
The first round of 36 Lesovoz kits sold out in under 2 hours on January 6, 2022. A second round of kits were sold in March 2022.
Discussion about Lesovoz can be found in the #lesovoz channel in the 40% Keyboards Discord server and in squashkb's Discord server.
View the build guide for Lezovoz here: https://docs.squashkb.com/lesovoz/lesovoz-build-guide
Check the MiniVan Compatibility Matrix for case compatibility
Lesovoz is a 4x10 ortholinear split-cluster through-hole PCB kit for MiniVan cases. The PCB ships unassembled with all components in the box (including the USB port) and must be soldered together by the end user. The kit includes an acrylic window with standoffs to cover the visible components in the center of the board. Due to the ortholinear layout, only three mounting holes (the top-left corner and the two along the bottom row) are available for installation in tray mount cases like MiniVan plastic cases and MFR.
All switches are south-facing. There are no holes for per-key LED or RGB LEDs anywhere on the board. The board uses a USB-C connector to connect to the host located along the top-right edge to ensure compatibility with MiniVan cases.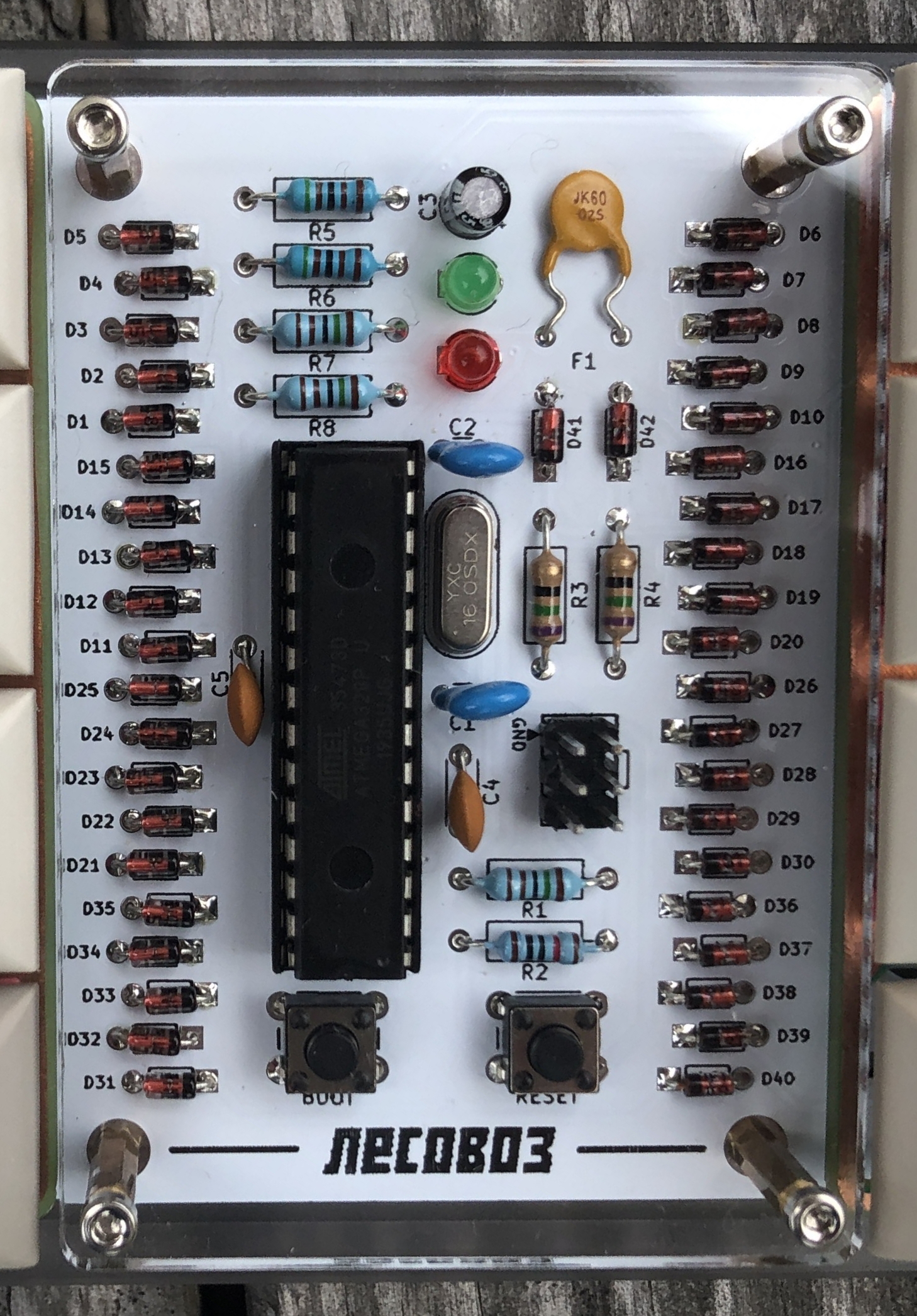 Lesovoz is split into a two 5x4 grids of 1u keys. A pair of 3u spacebars are supported as well as a single 2u spacebar option on the right half. The left half does not have a 2u spacebar option because the swtich stem would interfere with a standoff in tray mount cases. PCB-mount stabilizer holes are available for all spacebar positions.