JetVan is a MiniVan-compatible PCB designed by TheVanKeyboards and produced by TheKey.Company.
The original interest check thread from November 2019 can be viewed on GeekHack. A handful of prototype PCBs were produced and have rarely been seen in the wild.
Following the closure of TheVanKeyboards.com in October 2019, TheKey.Company acquired exclusive rights to produce and sell the MiniVan, including existing PCB and case designs. This deal included the JetVan PCB.
On June 11, 2021, MiniVan keyboard kits became available for purchase directly from TheKey.Company. JetVan kits included a PCB, injection-molded plastic case in one of four colors, an aluminum switch plate, a USB cable, and assembly hardware.
JetVan supports a single layout proposed by community member jetpacktuxedo that features a 6.25u spacebar and arrow cluster. The front of the board is covered in a silkscreen with the legend of each key in JPT's keymap. The back of the board contains all of the components, the name of the board, revision number, and the text "Designed by evangs".
JetVan uses a USB C port for its connection to the host. The top 3 rows of switches are oriented in the south-facing position while the bottom row is oriented in the north-facing position. None of the switch locations include through-hole pads for in-switch LEDs. There are 10 surface-mount RGB LEDs located around the edges on the underside of the board to provide underglow lighting. The board supports 5-pin switches and a PCB-mount stabilizer for the spacebar.
A reset switch is not installed on the JetVan PCB despite a footprint being included on the back of the board. Two small solder pads must be shorted with tweezers, a paperclip, or another conductive object to put the board in bootloader mode so firmware can be flashed. Refer to the image below to see which pads to short.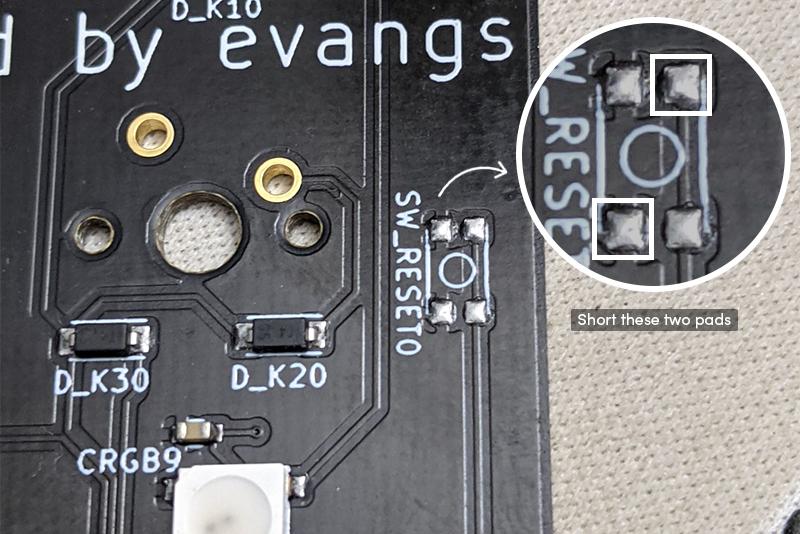 JetVan features a modified MiniVan layout that includes a 6.25u spacebar and support for an arrow cluster on the bottom row. Several other PCBs also support this layout:

Only one revision of JetVan has been designed.
Only 5 known prototype boards were produced for the prototype run and very few pictures of bare PCBs have been shared. The boards are covered in a red solder mask with white silk screen details.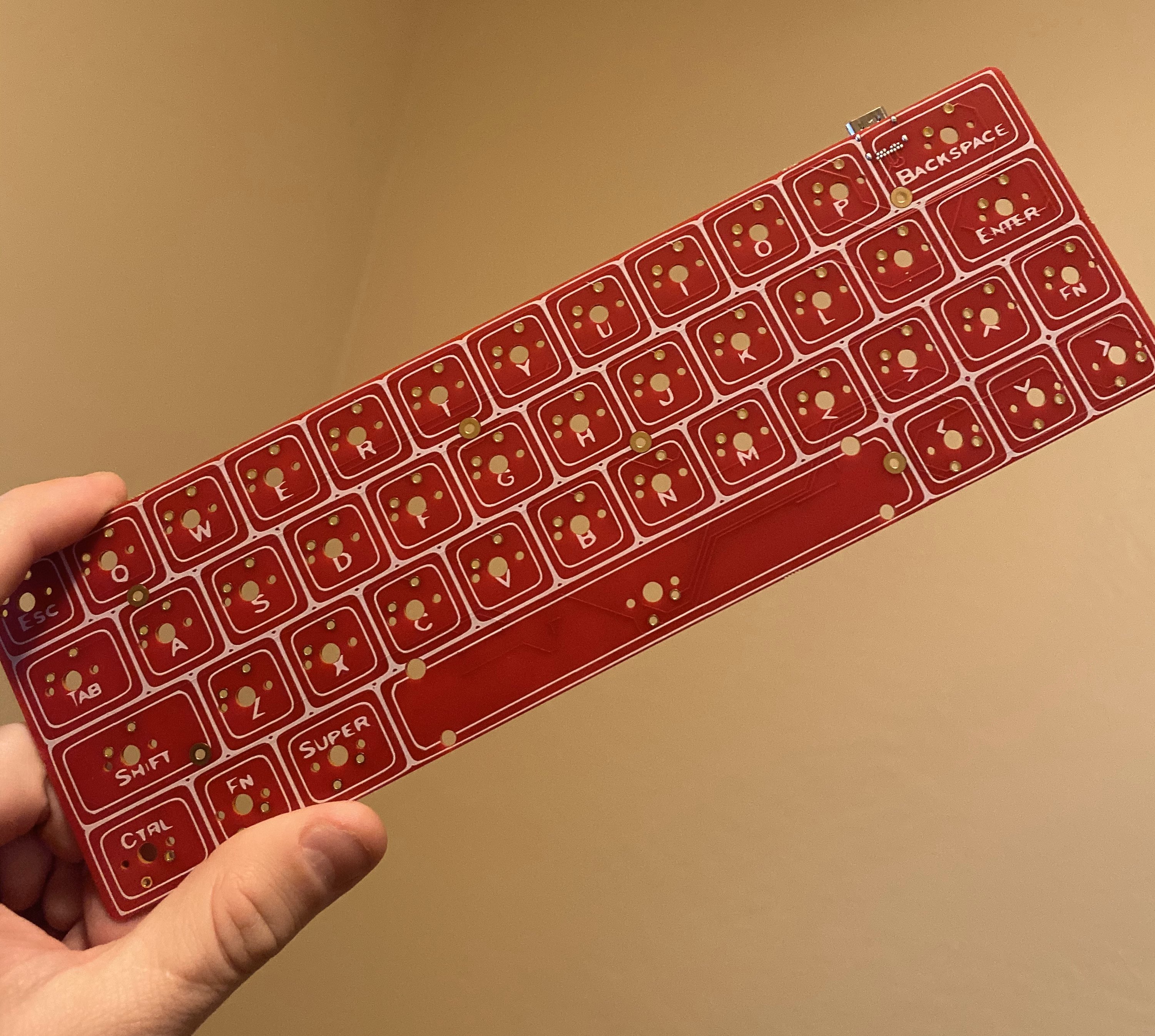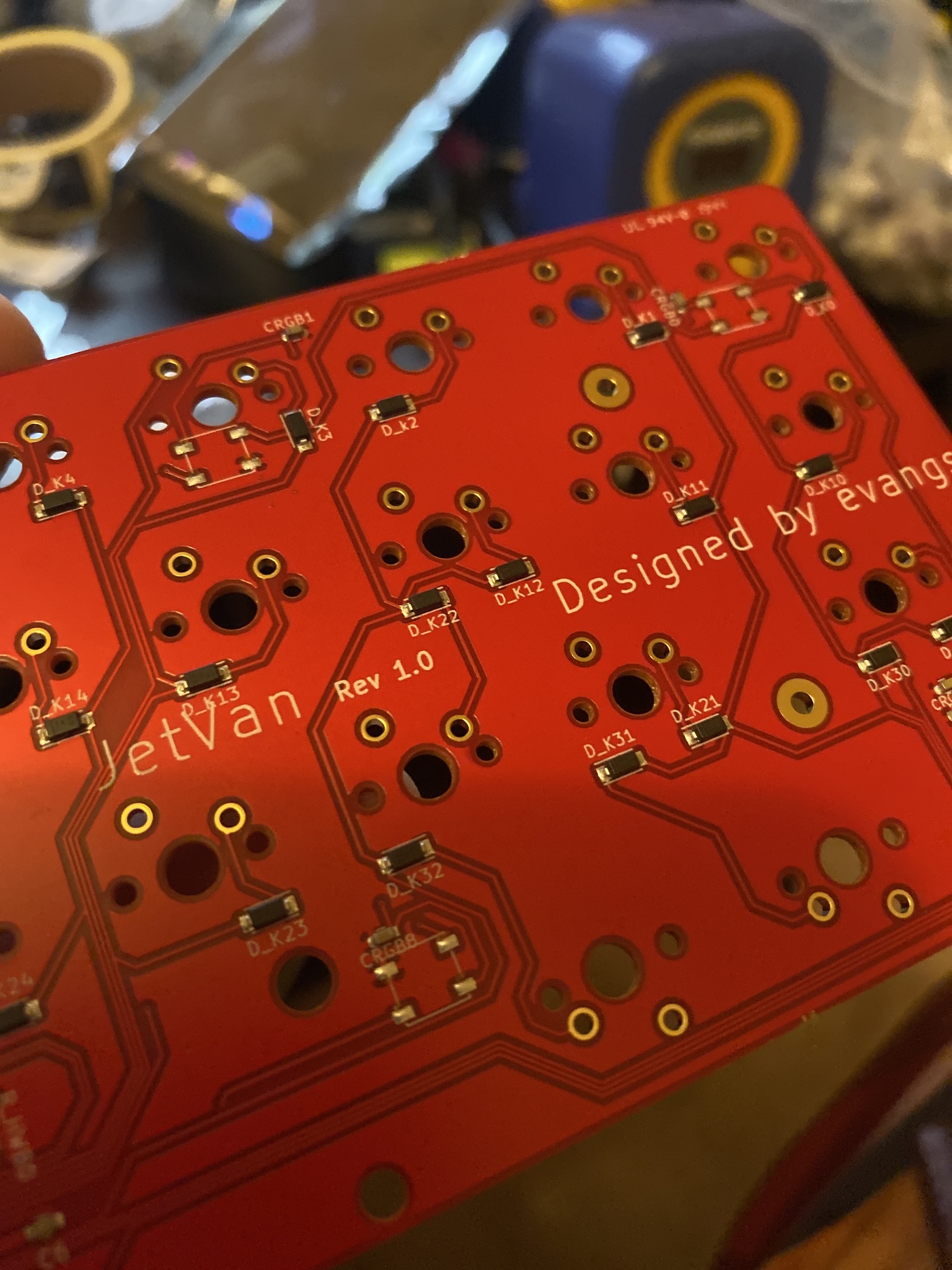 The production run PCBs sold by TheKey.Company include a black solder mask with the same white silkscreen design as the prototype boards. The back of the PCB still includes the text "Designed by evangs" rather than the updated "Distributed by The Key Dot Company LLC" label found on TKC's MiniVan HS PCBs.