Minisub is an upcoming MiniVan-compatible hotswap PCB designed by community member rainkeebs.
The group by for Minisub ran in June 2021 at https://www.rainkeebs.mx. The PCB was available with an FR4 tray mount plate for $50. Discussion about the PCB can be followed in the #minisub channel on the 40% Keyboards Discord server and on rainkeebs' Discord server.
Minisub is a drop-in replacement PCB for MiniVan cases that supports multiple layouts with hotswap sockets. It was designed as an alternative to the MiniVan HS PCB and resolves some of the common complaints about that board. All hotswap sockets are positioned so switches are in the south-facing orientation; this resolves compatibility issues that some keycaps have with north-facing or rotated switches. PCB-mount stabilizers are supported for all three spacebars.
There are no holes for per-key LED or RGB LEDs anywhere on the board. There are three pins broken out to through-hole pads above the spacebars that support an RGB LED strip.
The board uses a USB-C connector to connect to the host. The port is located in the top-right to ensure compatibility with MiniVan cases. Tray-mount holes and the reset switch are positioned to maintain compatibility with tray-mount MiniVan cases.
Firmware can be generated for the board using Trash Man's Configurator. The PCB uses the same matrix layout and pinout as MiniVan PCBs, making it compatible with the Arrows MiniVan layout. The 6.25u spacebar is wired to the right spacebar switch position for JetVan layout.
KLE available here: http://www.keyboard-layout-editor.com/#/gists/1fa1f216f42ccb54e6a5849ecc492d73
Minisub supports two layouts - a split-space layout with arrow keys and JetVan layout. The split-space layout uses 2.75u/2.25u spacebars with a 1.25u key to their right. JetVan layout replaces those three keys with a 6.25u spacebar.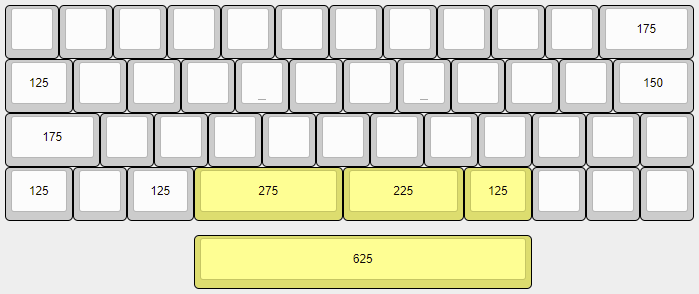 The only pictures have have been shared are of prototype rev 1.0 boards. They are blue with a white silk screen. A pair of through-hole pads for a reset switch are located on the far-left of the PCB.

The only picture we have of the rev 1.1 board is a render showing the back of the PCB with its hotswap sockets and silkscreen. Production boards will have pads for a surface-mount reset switch instead of through-hole pads.