KnuckHull is a low-profile portable case for USB-C based Minivan-compatible PCBs created by community member TheBlackHammer.
KnuckHull is a low-profile bottom-mount case that combines the best elements of Hull and Rackmount. Like both of those cases, KnuckHull is milled from a single piece of metal. The three-finger handle from Rackmount is included on the left side. Hull plates are supported with four M2x6mm screws securing the plate to the case. The middle of the plate is not supported in any way by the case, allowing end users to customize the amount of flex by using different plate materials. Cutouts are included in the bottom of the case to ensure compatibility with the Bluetooth module and a large battery for Airport Shuttle PCBs.
DXF files for Hull switch plates are available on the Files page.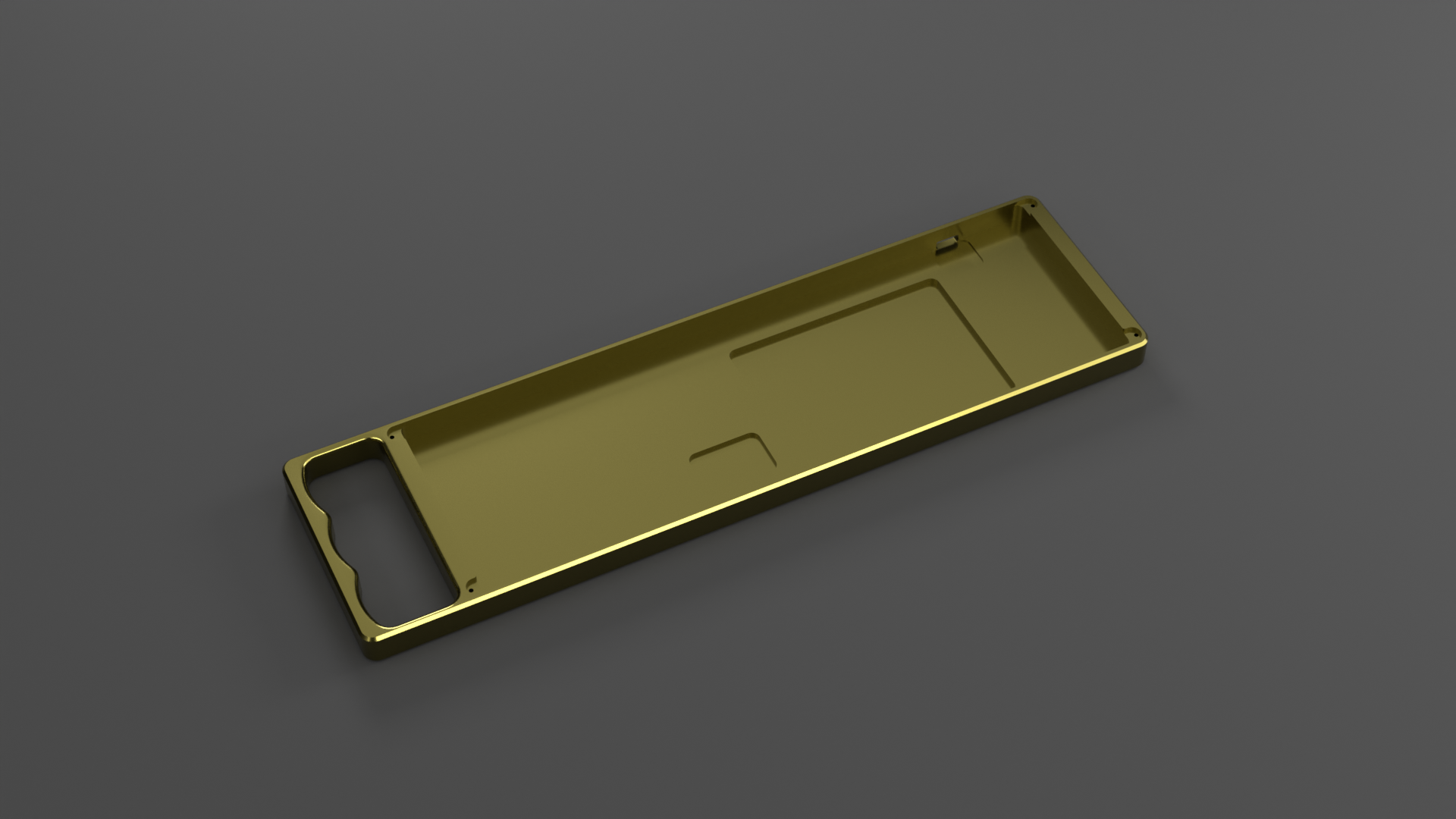 The first round of 30 cases were produced following a group buy in April 2021 at TheHammerForge. The cases were named "Brass Knuckhull", a wordplay of brass knuckles. Cases were sold for a base price of $155 with options for add-on FR4, polycarbonate, or brushed brass plates in a variety of layouts. Cases from the first group buy were mirror polished and clear coated at the factory to preserve the finish. Matching brass M2 screws and adhesive cork feet were included with each case.

Aluminum KnuckHull group buys have all sold through TachFactory.
A set of 10 aluminum Knuckhulls were produced in late 2021 as part of a private group buy. The cases were anodized in a variety of colors and sold with forged carbon fiber plates that support the JetVan layout.
A larger round of aluminum KnuckHulls were sold in March 2022 for $90. There were 15 cases available in black, red, and navy blue.
Ten custom cerakoted aluminum Knuckhulls were sold in April 2022 for $115 each. The cases were cerakoted by P3DStore.com in a variety of colors.