Low Rider (also known as Low Writer) is the second PCB designed for the MiniVan keyboard. It is the successor to the TheVan44 PCB and was sold with MiniVan kits as well as standalone.
The Low Rider PCB is deep purple with white silkscreen. The front of the board includes a large silhouette of a low rider car with the words "Low Rider" in script. All of the electrical components are located on the back of the PCB. The word "MiniVan" followed by the revision number is silkscreened onto the back along with the words "Designed by TheVan Keyboards"
Low Rider was the first TheVanKeyboards PCB to include a USB C connector. There were growing pains however - the first revision did not support USB C-to-C cables. It was also was the first MiniVan PCB to add support for the Southpaw layout.
All switch positions are equipped with through-hole pads for in-switch LED lighting. Switches are oriented with north-facing LEDs. A reset button is positioned along the right edge of the bottom of the board. There are PCB-mount stabilizer holes for both spacebars (TheVan44 PCB requires plate-mount stabilizers). PCB-mount switch leg holes are included for every switch location, resolving an issue that TheVan44 owners experienced where the plastic legs of PCB-mount switches had to be clipped in order to install the switches into certain positions.
The following MiniVan PCB layouts are supported by all models of the Low Rider PCB:
Standard
Arrows
Southpaw
Southpaw + Arrows
425 Spacebar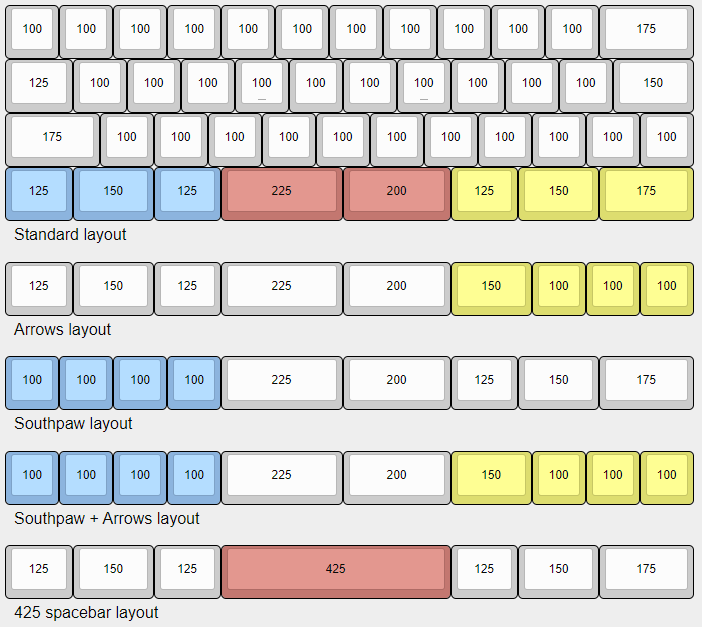 Additionally, the Rev 5.0 PCB adds support for the "JISVan" layout - named after the the custom HuB profile JIS/ISO-style Enter key

There were 2 revisions of the Low Rider PCB.
The USB circuit was not designed to properly negotiate with a host via a C-to-C cable. Rev 4.1 boards will only work with USB C-to-A cables.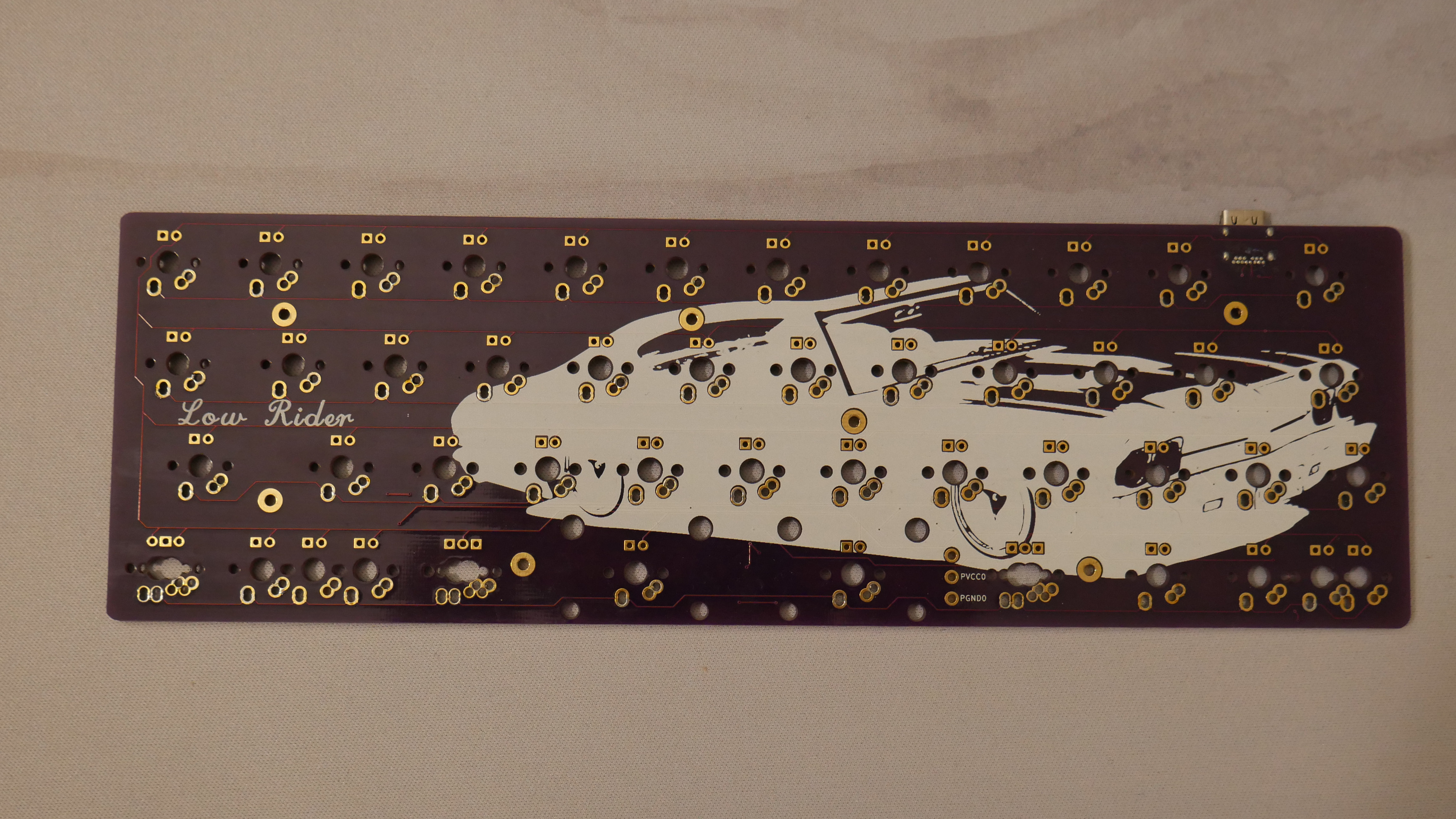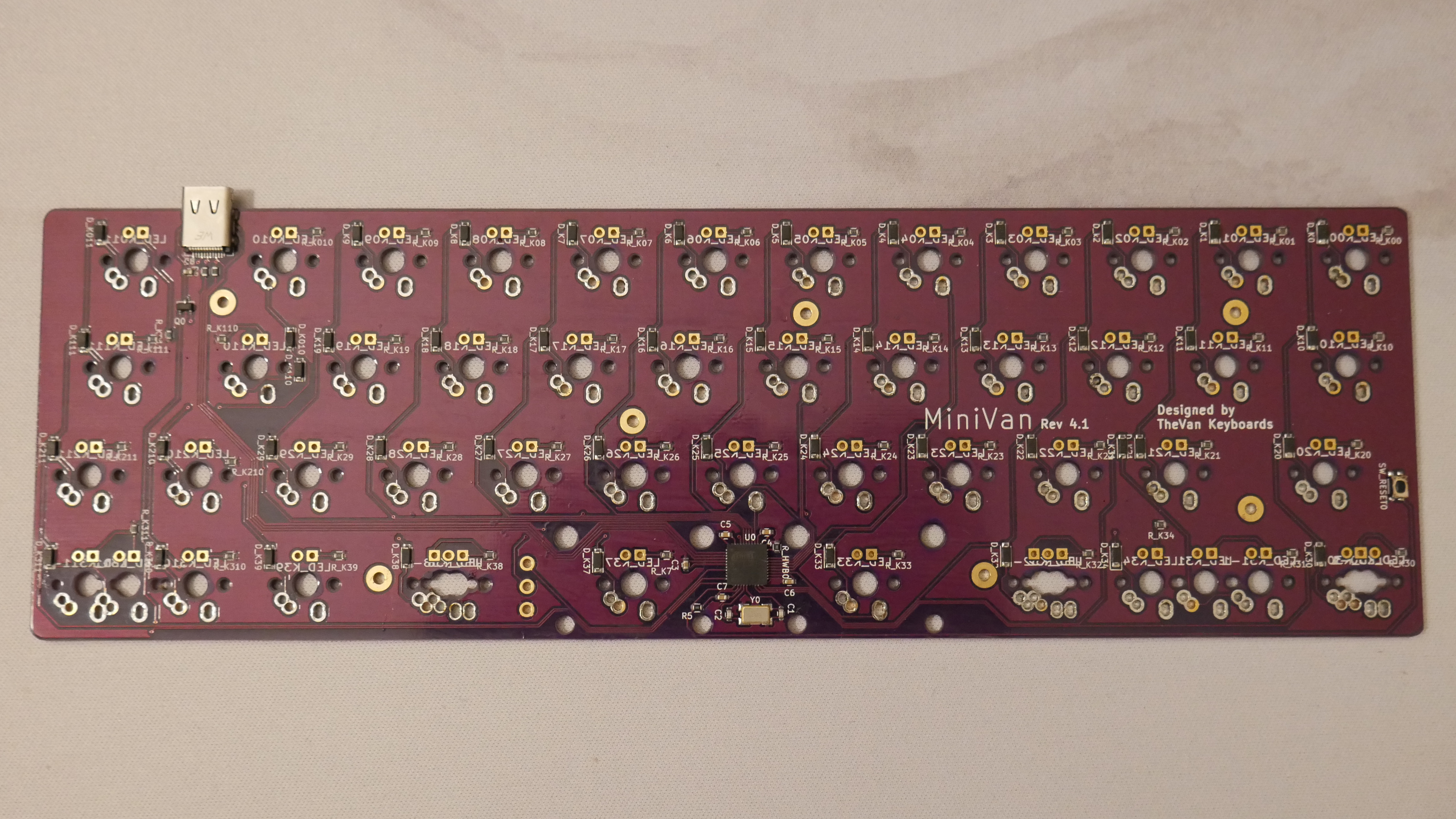 The second revision received a redesigned USB circuit, enabling the use of USB C-to-C cables inserted in any orientation. The board also added a minor layout update - an extra switch location is positioned between the keys on the far-right of the middle rows to support a custom JIS/ISO-style Enter key produced in HuB profile. A set of holes for PCB-mount stabilizers are located above and below the switch. An STL file for 3D printing the JIS Enter is available for users who want to print their own.