A handful of extra Taco Truck spots are available. PCBs will ship when group buy production is complete: https://tacokb.com/collections/frontpage/products/taco-truck
Taco Truck is a hotswap and uniform-stagger MiniVan-compatible PCB designed by community member PsychicTaco.
A limited group buy was run for the board in June 2021 on https://tacokb.com. Discussion about the board can be found in the #taco-truck channels in the 40% Keyboards Discord server and Taco Keyboards Discord server.
Taco Truck features uniform row stagger, RGB underglow LED lighting, and hotswap switch mounting using Kailh sockets. The board went through several iterations during the early design process. One of the ongoing obstacles the project faced was interference between the hotswap socket locations and mounting hole positions. Many bottom row layouts were considered and feedback was gathered through a series of interest check forms. The final layout retains compatibility with six of the seven mounting hole positions found in tray mount MiniVan cases. The center screw hole between H, J, and N on a QWERTY layout is obstructed by an RGB LED on the underside of the board.
A USB C connector is located under the Backspace key to maintain compatibility with MiniVan cases. The board includes hotswap sockets for all switch locations with all switches oriented in the south-facing position. PsychicTaco was adamant about avoiding rotated switches due to potential issues with keycaps. There are eight RGB LEDs installed on the underside of the PCB to provide underglow.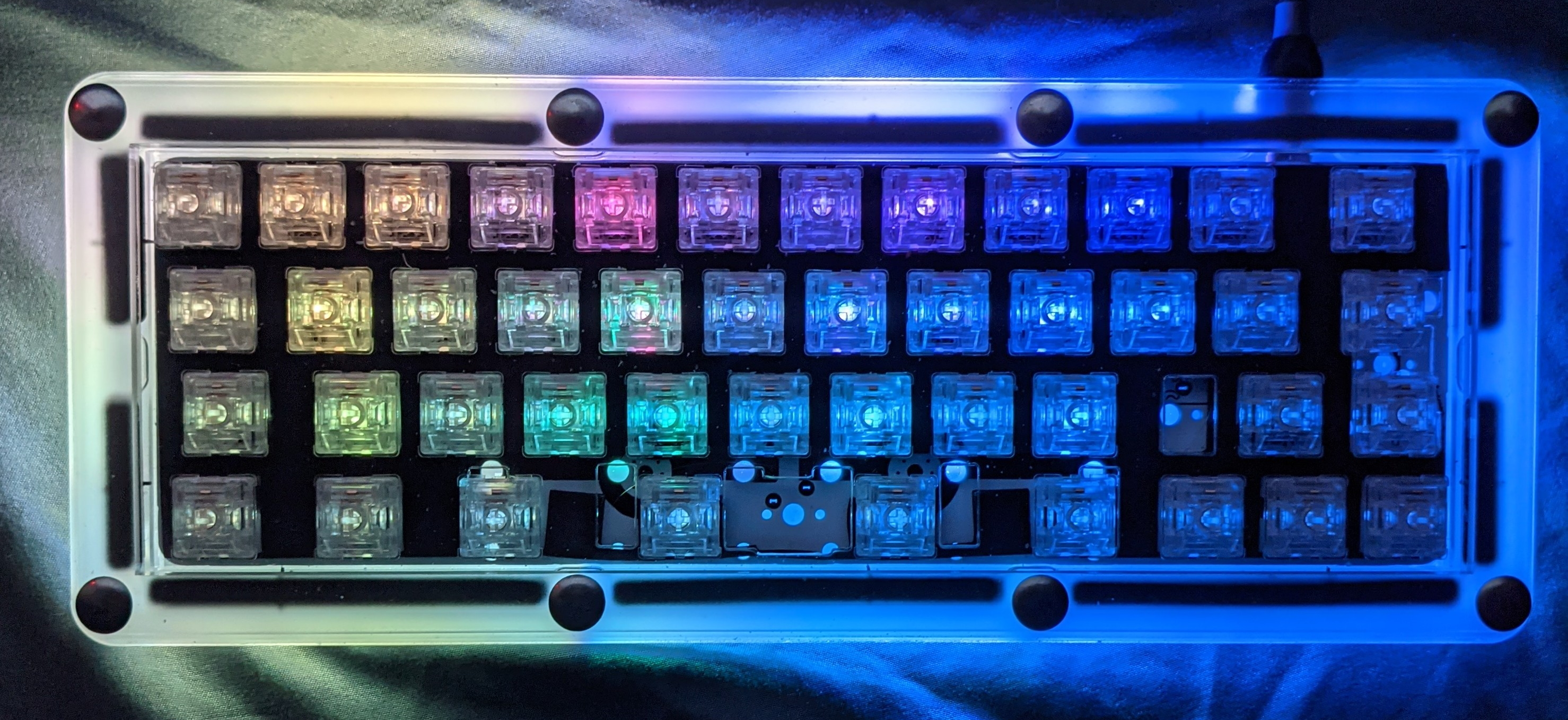 KLE available here: http://www.keyboard-layout-editor.com/#/gists/9e17e73ada7b6d2c3099557a055aaa9c
Taco Truck is the only MiniVan-compatible PCB to feature uniform 0.25u row stagger. The board is based on the MiniVan Arrows layout with an adjusted 3rd row and additional 7u spacebar support. 4.25u HuB spacebar support is included since the board uses the same 2.25u/2u split spacebar layout as other MiniVan PCBs. Because of the uniform row stagger the board is able to support a standard ISO Enter key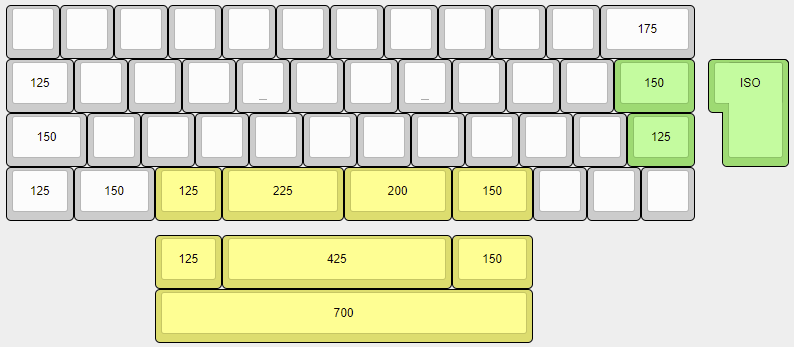 Several early prototype PCBs were produced during the design process. The boards were yellow with white silk-screened food trucks. ISO Enter was not supported by prototype boards.
The USB connector on these prototype boards is offset several millimeters towards the middle of the PCB to avoid interference with the hotswap socket for the Backspace key. This offset causes the port to be misaligned with the cutout on most MiniVan cases, though it will still work with cases that have larger USB cutouts such as 3D printed and layered acrylic cases. Later revisions of the board resolved this issue.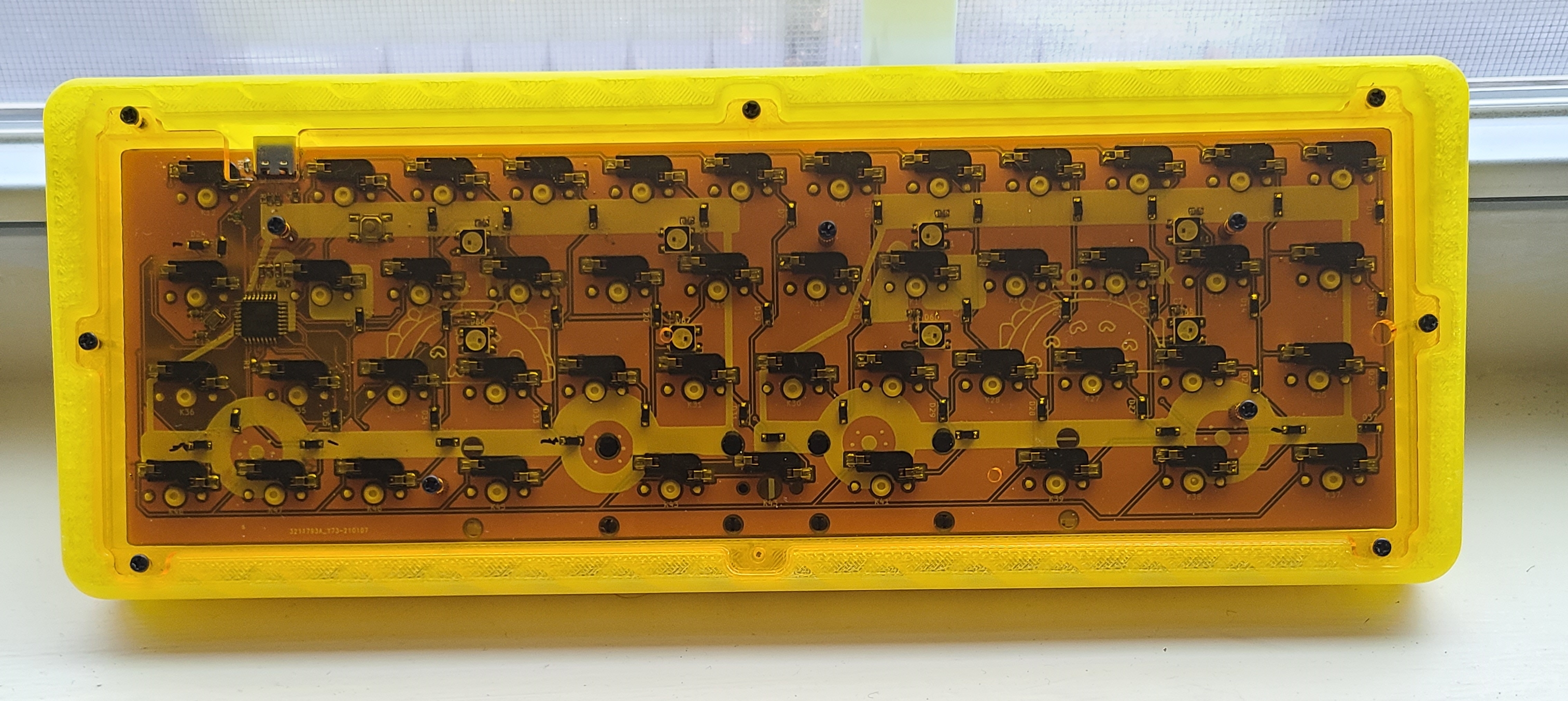 Rev 1.0 PCBs will be white with black solder mask. The board was modified to add ISO Enter support.