Taco Truck is an upcoming hotswap and uniform-stagger MiniVan-compatible PCB designed by community member PsychicTaco.
Development of Taco Truck stalled in early 2021 as PsychicTaco focused on other projects. The #taco-truck channel in the 40% Keyboards Discord server has been archived but the creator has stated that development may resume once other projects are completed.
Taco Truck went through several iterations during the early design process. One of the ongoing obstacles the project faced was interference between the hotswap socket locations and mounting hole positions. Many bottom row layouts were considered and feedback was gathered through a series of interest check forms. The final layout retains full compatibility with all seven mounting hole positions found in tray mount MiniVan cases.
The board includes hotswap sockets for all switch locations with all switches oriented in the south-facing position. PsychicTaco was adamant about avoiding rotated switches due to potential issues with keycaps. There are 8 RGB LEDs installed on the underside of the PCB to provide underglow.
A USB C connector is located under the Backspace key to maintain compatibility with MiniVan cases. Unfortunately, the connector on the prototype boards is offset 0.5mm towards the middle of the PCB which causes interference with cases that have tight USB cutouts. The PCB still maintains compatibility with many cases that have larger USB cutouts such as 3D printed cases and layered acrylic cases.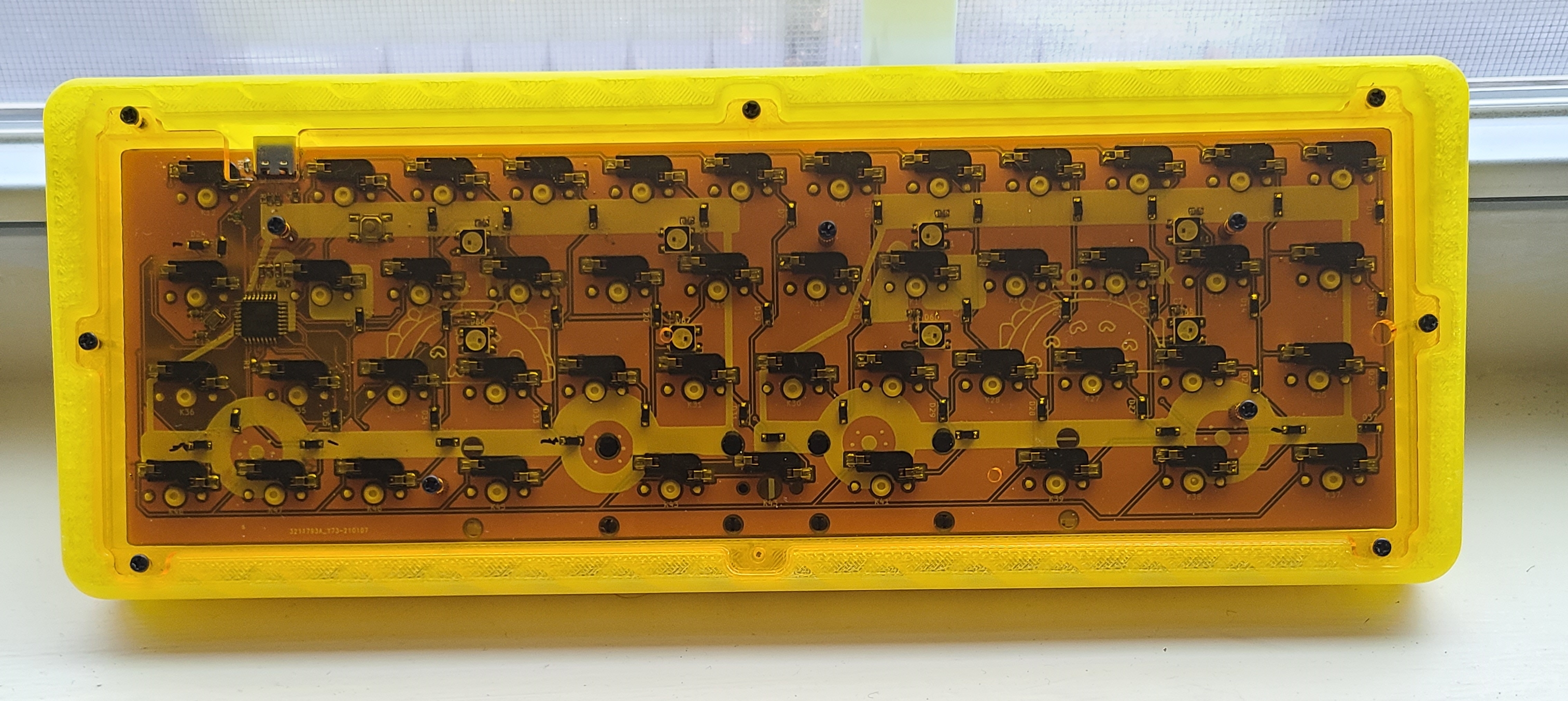 KLE available here: http://www.keyboard-layout-editor.com/#/gists/9e17e73ada7b6d2c3099557a055aaa9c
Taco Truck is the only MiniVan-compatible PCB to feature uniform 0.25u row stagger. The board is based on the MiniVan Arrows layout with an adjusted 3rd row and additional 7u spacebar support. 4.25u HuB spacebar support is included since the board uses the same 2.25u/2u split spacebar layout as other MiniVan PCBs.
Several prototype PCBs were produced during the design process. The last set of prototype PCBs featured the final layout is seen in the photos above. Renders of both sides of the PCB are shown below.