Roadkit (first sold as Roadkit Mini) is a 4x4 fully programmable macropad designed to be a companion to MiniVan.
Designer
Trash Man
Firmware
Trash Configurator
Layouts
KLE link
Plate files
DXFs on the Files page
Switches
Soldered MX/Alps
LEDs
Soldered per-key
Connection
Integrated Mini USB (R1/R2)
Integrated USB-C (R3)
Controller
ATmega32u4
Roadkit follows a similar design style as MiniVan. The two boards are intended to be paired together as a keyboard-plus-macropad combo. The original cases were CNC milled aluminum to match the MiniVan aluminum case and came in several finishes. Roadkit cases use a tray-mount design with an optional switch plate. Through-hole pads are included for in-switch LEDs for every switch position. A less expensive Roadkit Lite was offered toward the end of the product's lifecycle that shipped with a 3D printed plastic case.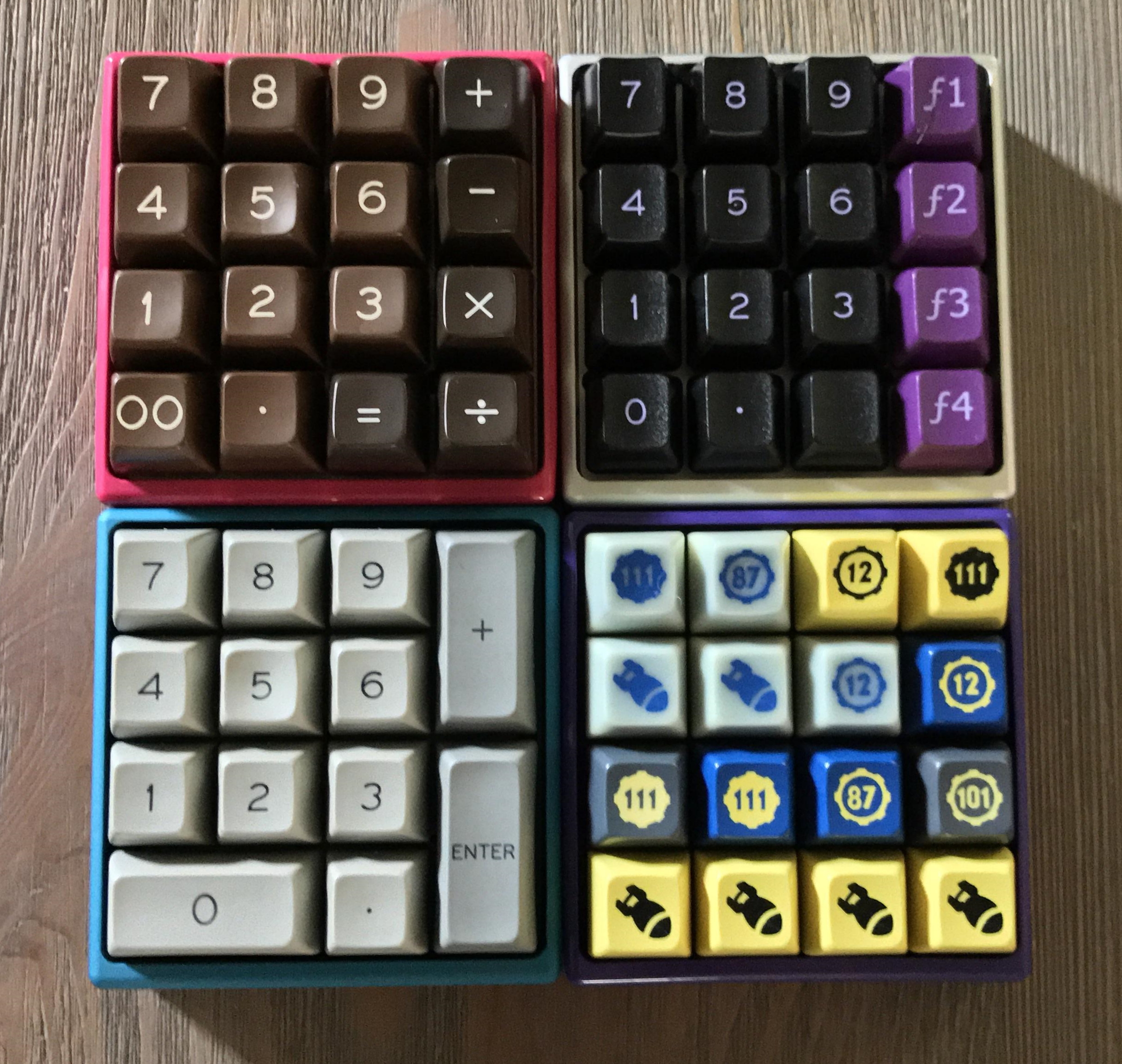 The initial concept for the Roadkit was a trio of macropad designs intended to compliment multiple sizes of main keyboards.
Roadkit: the largest version with a full numpad, arrow cluster, and three 8-key macro sections at the top
Roadkit Mini: dropped the two top macro key sections and closely resembled the right half of a full-size 104-key board
Roadkit Micro: a 4x4 macropad/numpad with no arrow cluster
To support multiple layouts, a two-piece plate design was conceptualized that allowed the user to swap out the numpad section with three 2u keys (+, Enter, and 0) for a traditional grid-like macropad layout of 1u keys. This would allow for a single large plate and two small addon plates to be shipped with the case instead of requiring two large plates for the whole board. The two-piece plate was never seen on production Roadkits as it was cheap enough to include two complete 4x4 plates (one per layout) with each kit rather than three plate pieces (base + 2 addons).
The plans for the largest Roadkit were eventually scrapped and the names were changed. The 4x4 macropad was renamed to Roadkit Mini and a group buy was launched in late 2016. Following the success of the group buy, the idea of a larger version was dropped entirely and the lone remaining macropad earned the name "Roadkit" for all subsequent versions.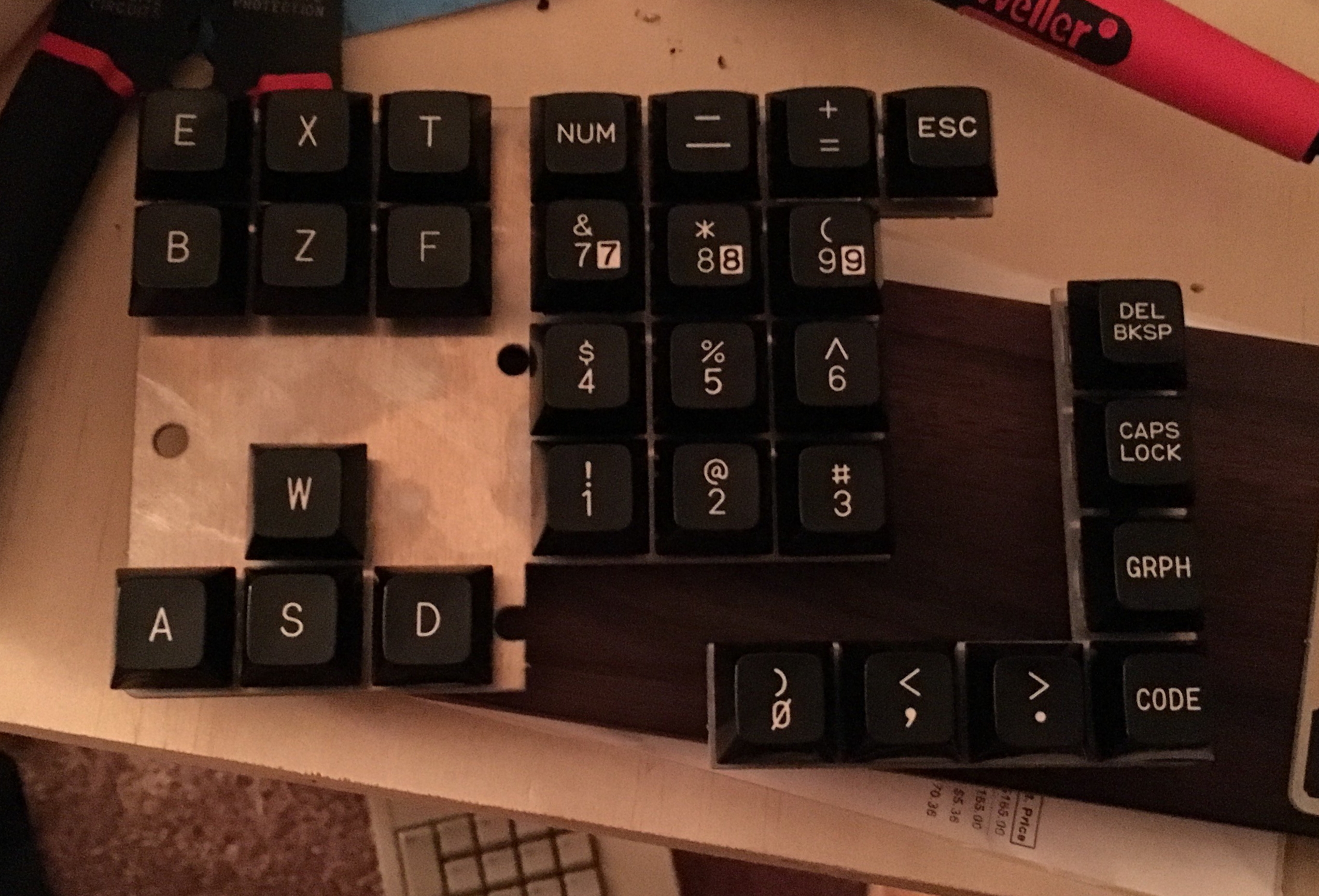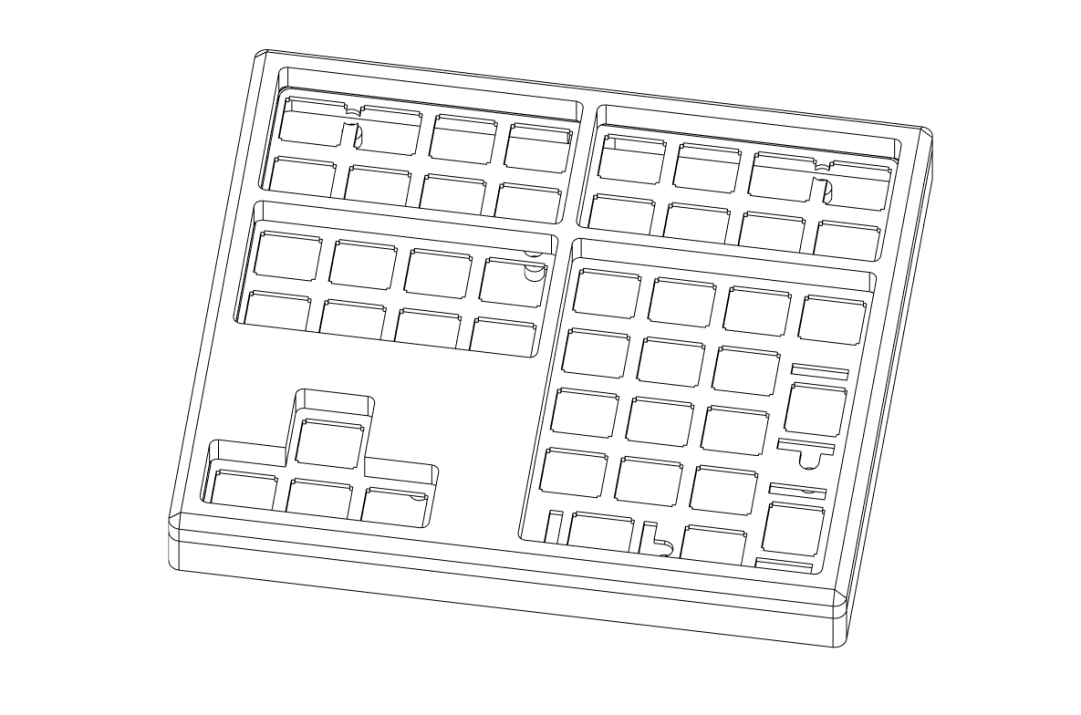 The Roadkit PCB supports two layouts. Plate files are available for both layouts.
Macropad - 16x 1u keys in a 4x4 grid

Numpad - a 2u horizontal key in the bottom left and 2x vertical 2u keys on the right edge for a more traditional numpad layout

The official PCB designed by TheVanKeyboards that shipped with Roadkit received three revisions. All 3 revisions of the PCB support Cherry MX and Alps switches. The front of all 3 revisions include the name of the board, the revision number, and the text "Designed by Evan Sailer for TheVan Keyboards". All surface mount components are installed on the back side of the PCB. A reset button is located to the left of the USB port.
The first PCB made for Roadkit mirrored many of the design elements of the original MiniVan PCB. The board is covered in a white solder mask with black silkscreen. There are no holes for PCB-mount switch legs for any of the switch locations. Plate-mount stabilizers are required for all three 2u keycap locations as there are no holes for PCB-mount stabilizers. The board uses a Mini USB connector.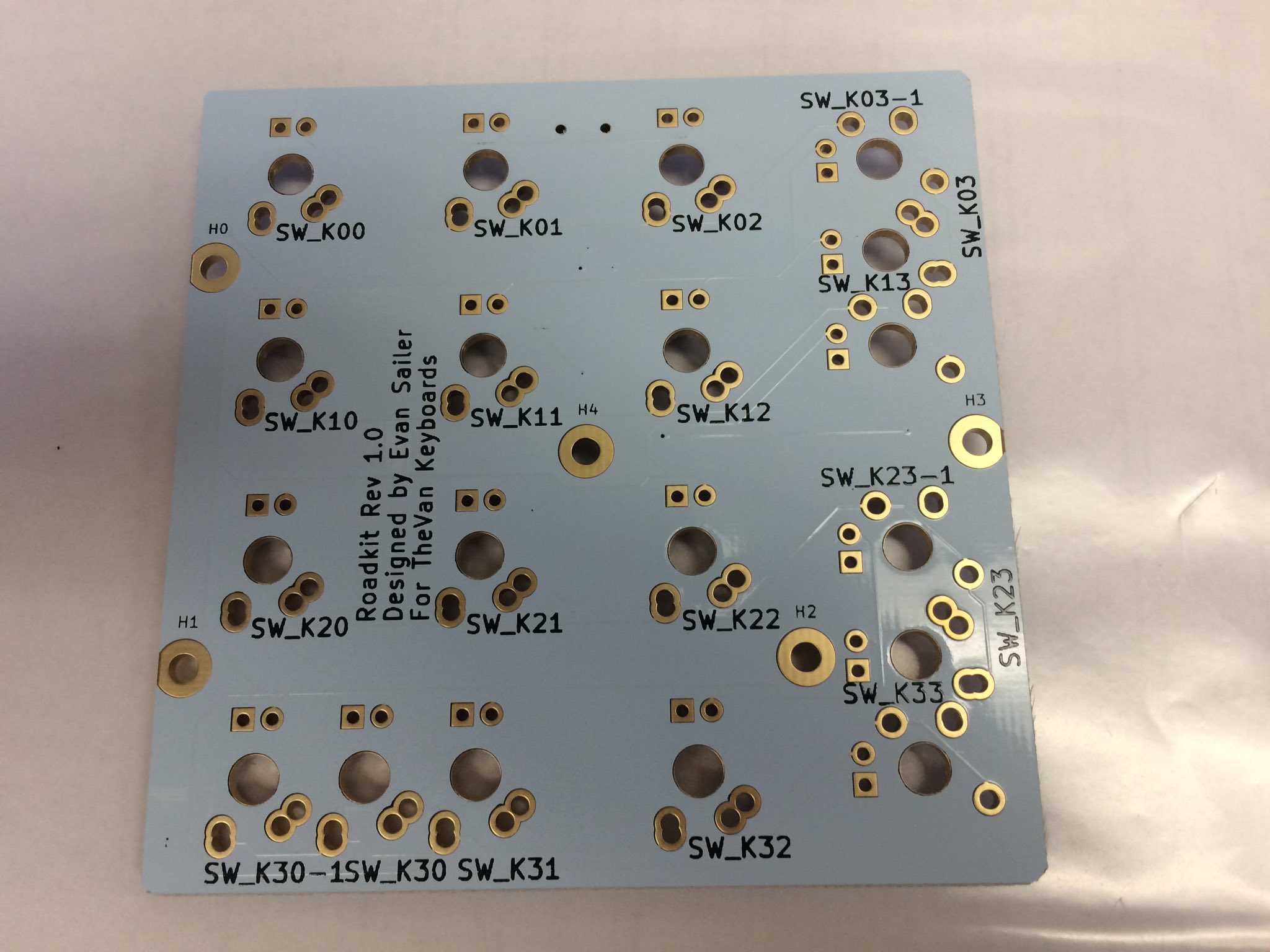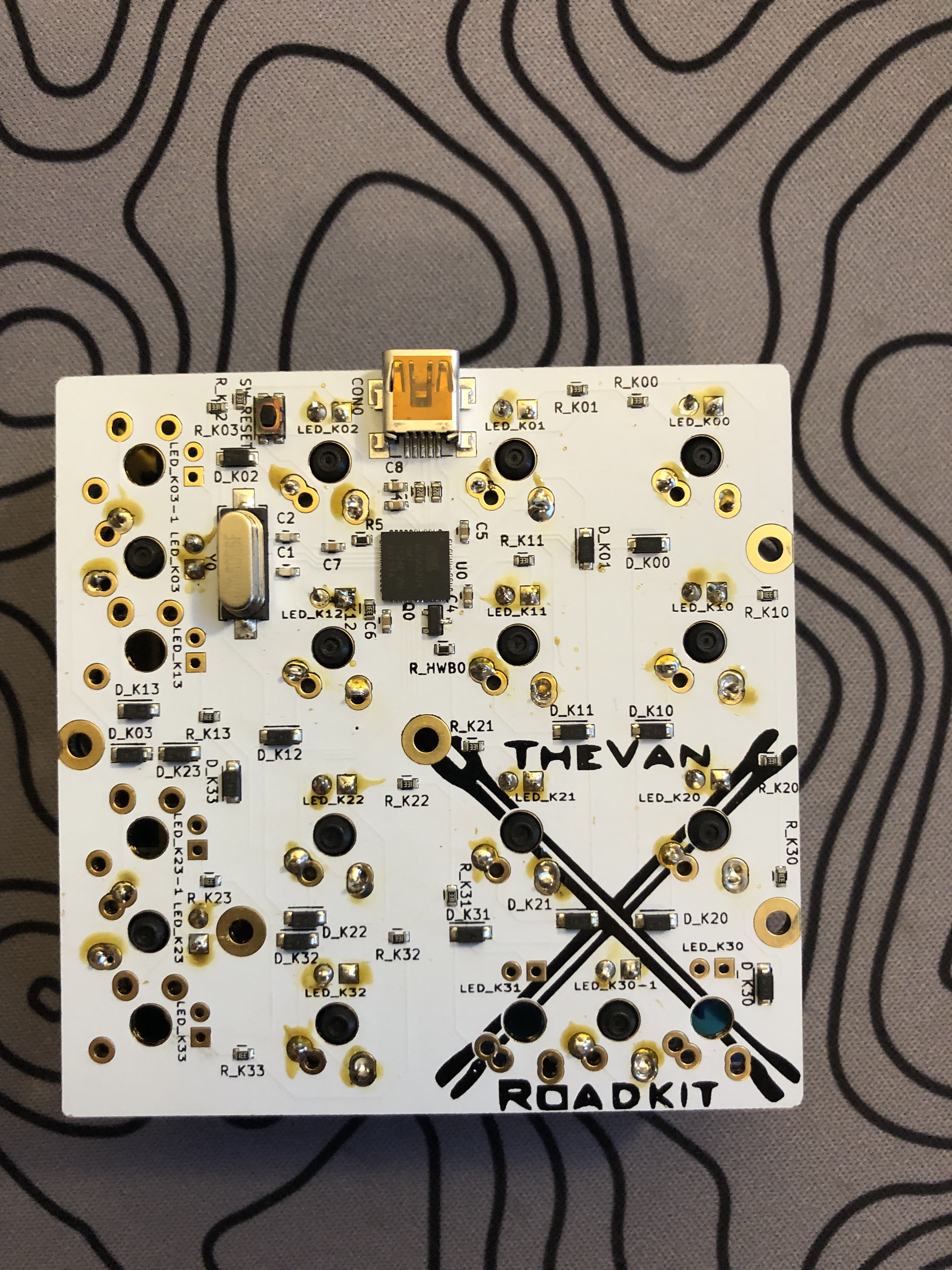 Revision 2 PCBs sold with round 2 Roadkits added holes for PCB-mount switch legs for all of the switch positions as well as PCB-mount stabilizer holes for the three 2u keycap locations.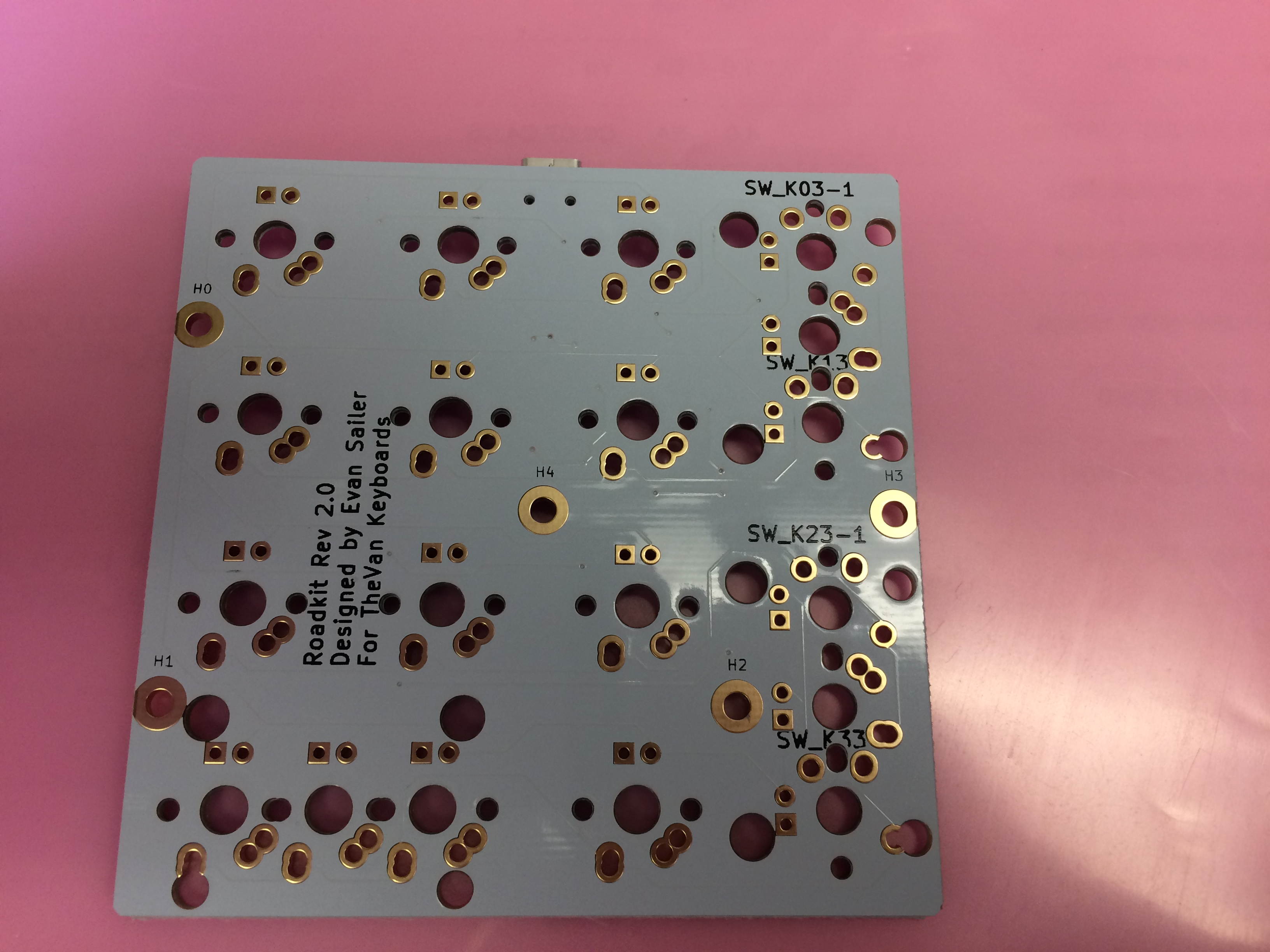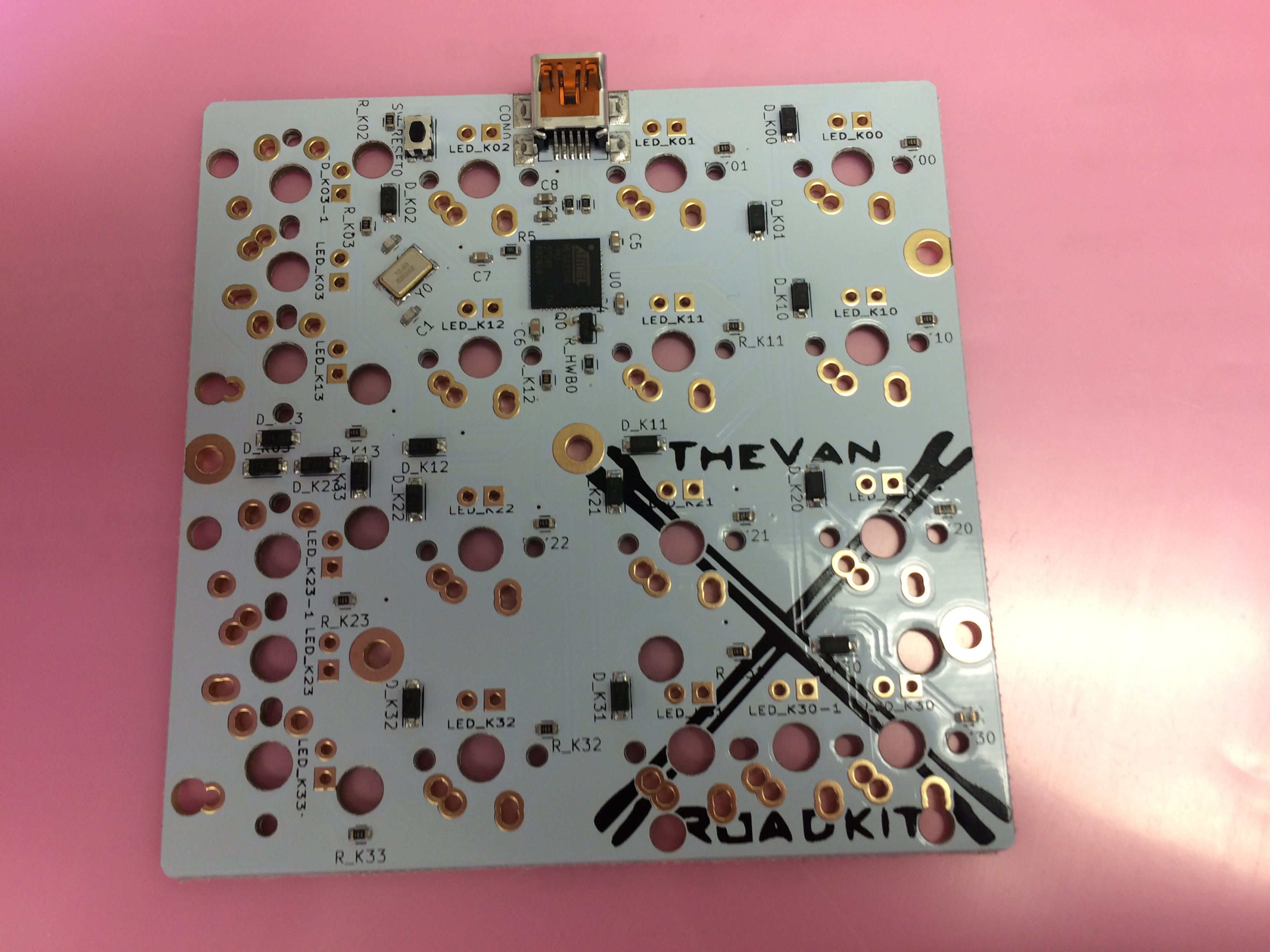 Roadkit round 3 kits included an updated PCB to match the Low Rider PCB that shipped with round 4 MiniVan kits. The board is covered in a purple solder mask and white silkscreen. A USB-C connector was added to replace the aging Mini USB seen on previous revisions.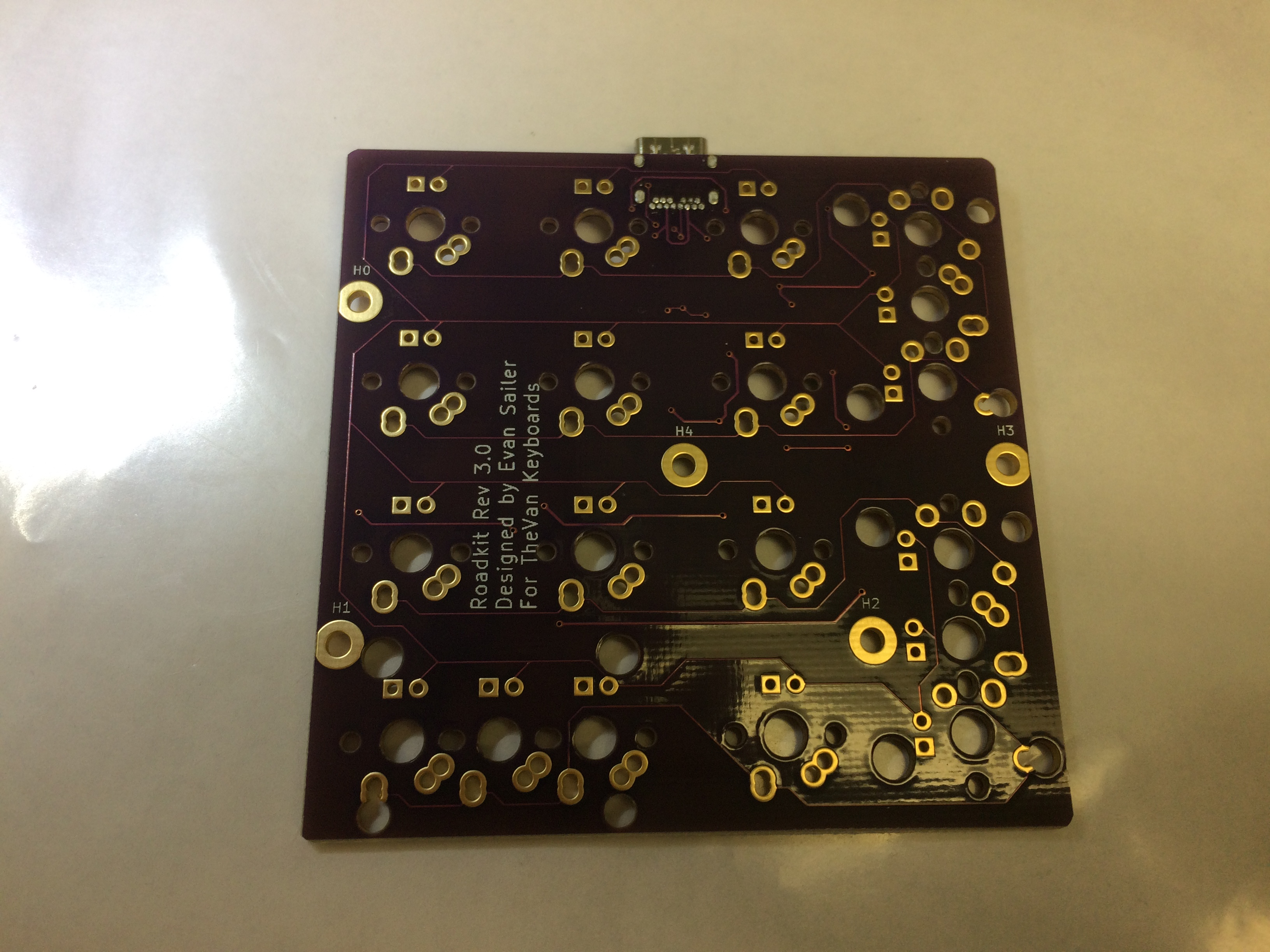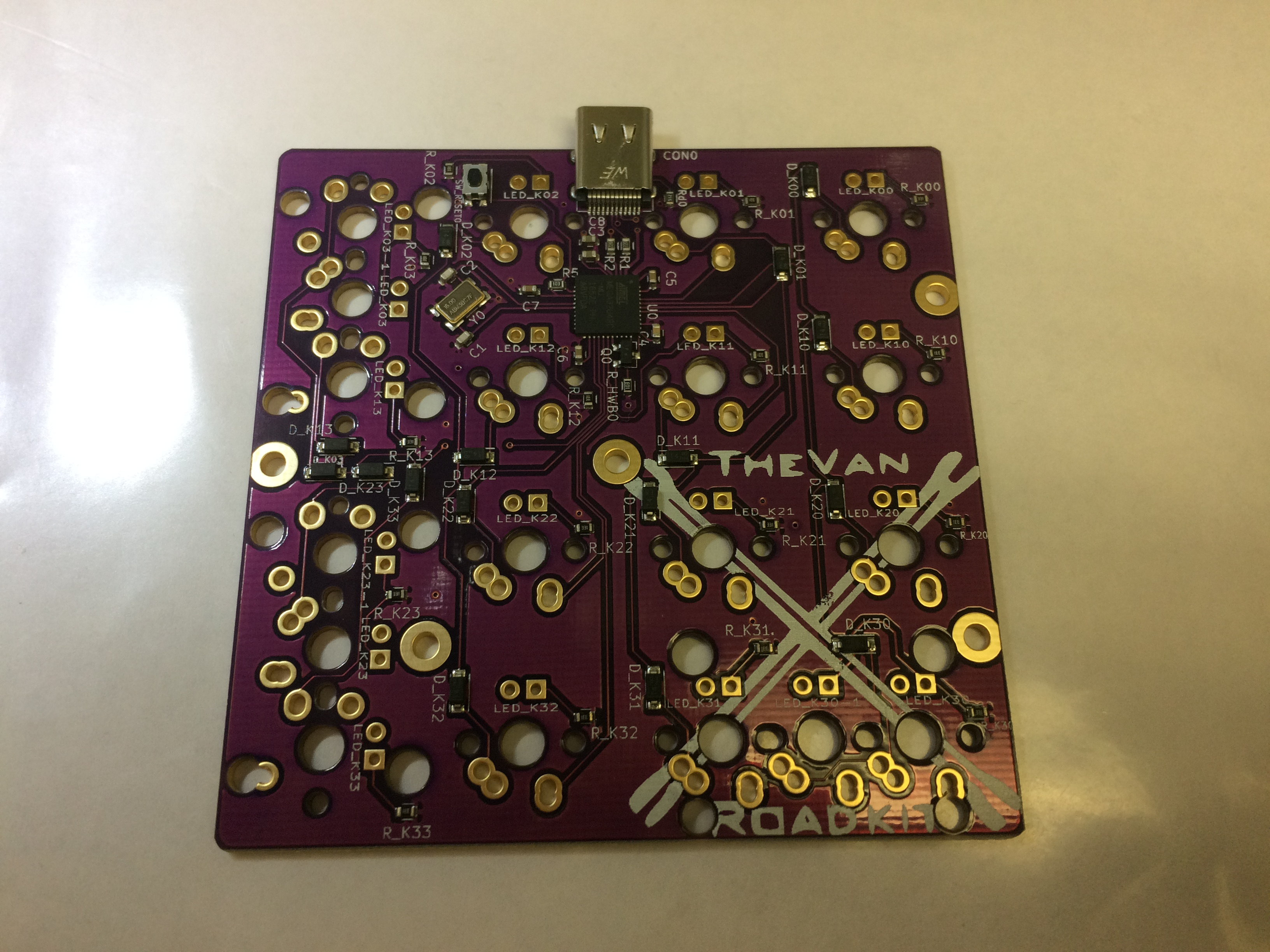 Skiff is an updated macropad PCB created by Trash Man that is compatible with Roadkit cases. Rather than iterate on existing Roadkit PCBs, Skiff was built from the ground up alongside the MiniVan-compatible Ketch PCB to support a new feature called portscanning. Skiff uses a USB C port and is compatible with all existing Roadkit cases.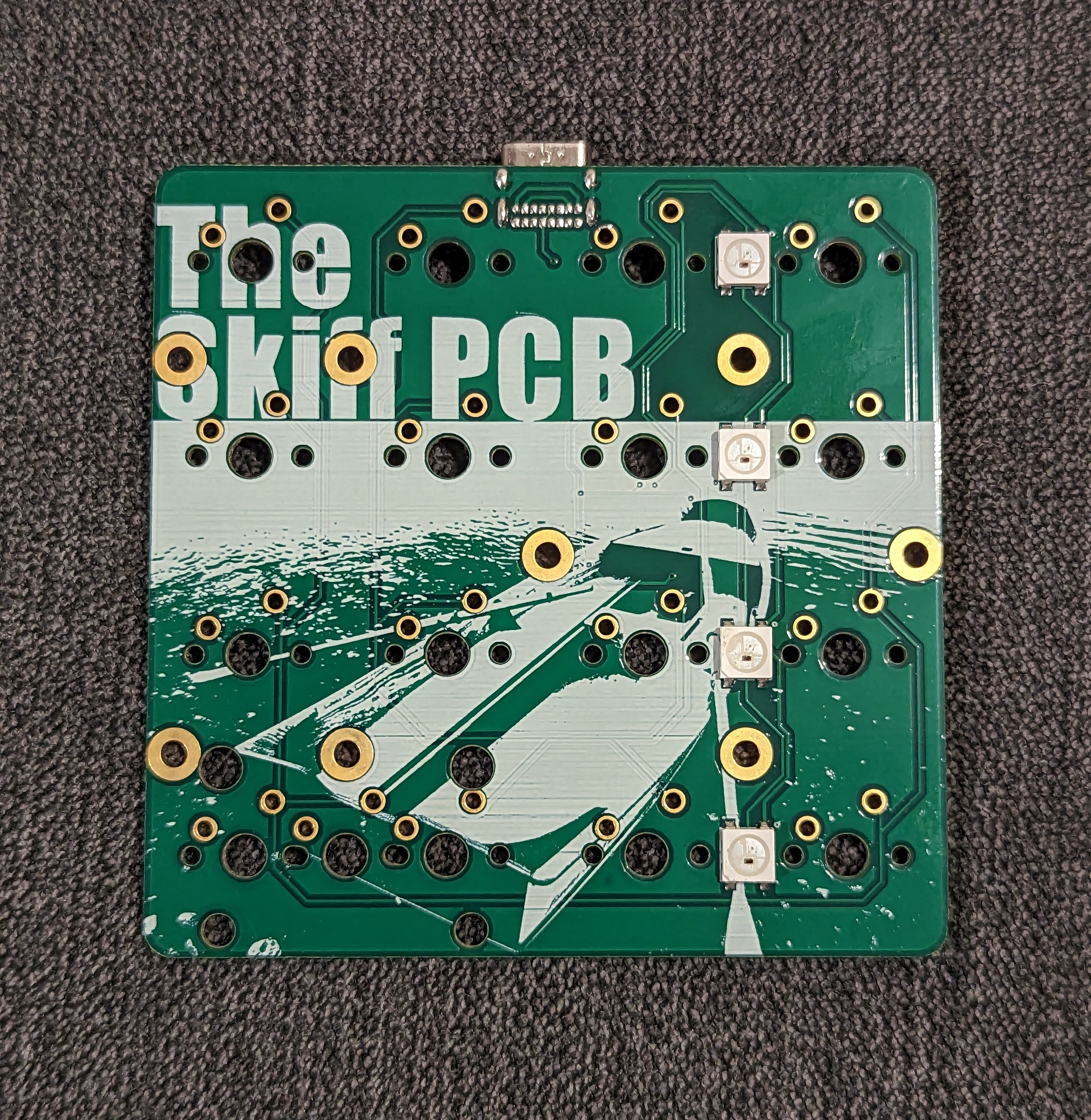 The original CNC-milled aluminum case that shipped with the Roadkit was sold in an array of anozed colors. There were several changes made between the different group buy rounds however the details between specific revisions are difficult to discern.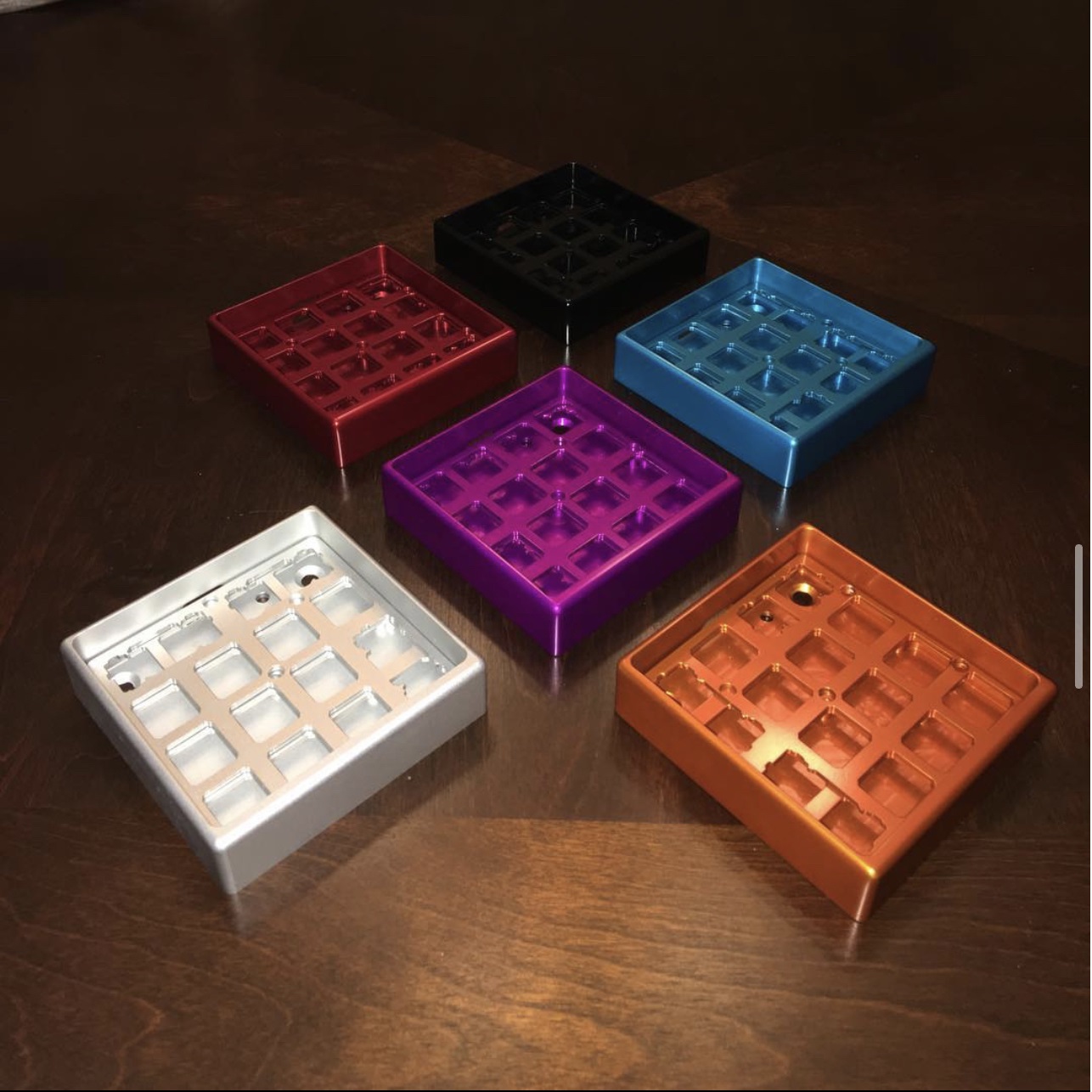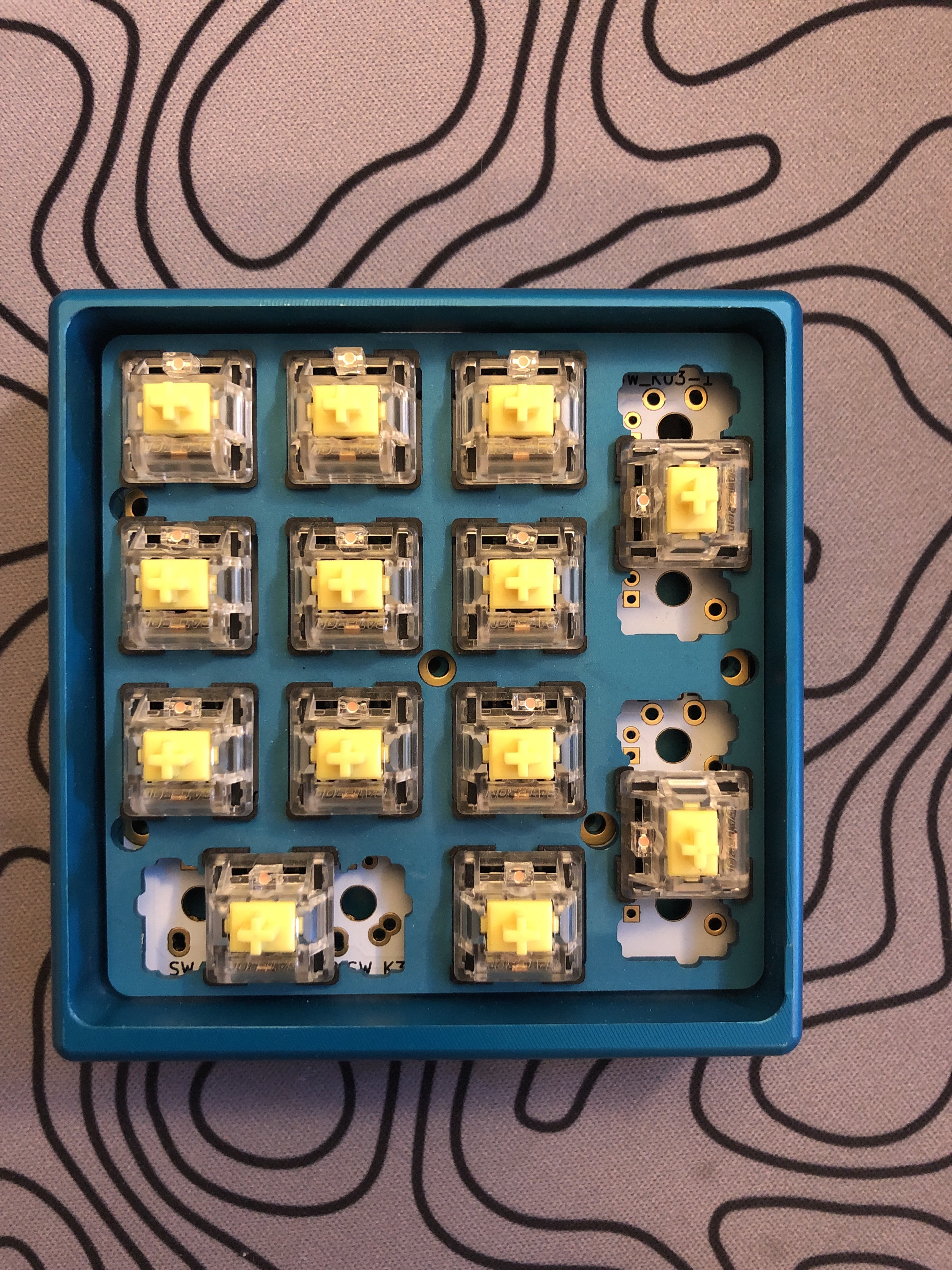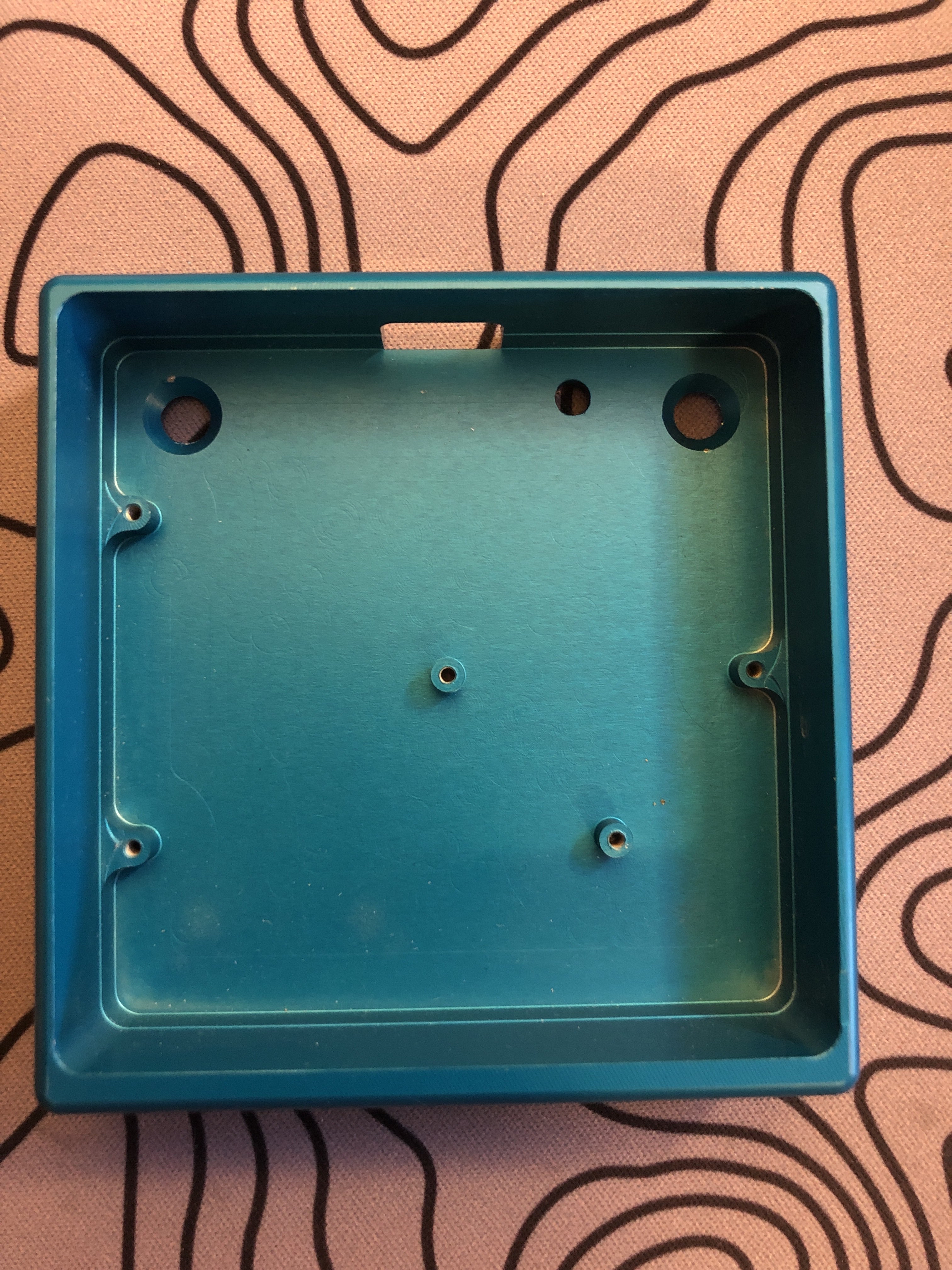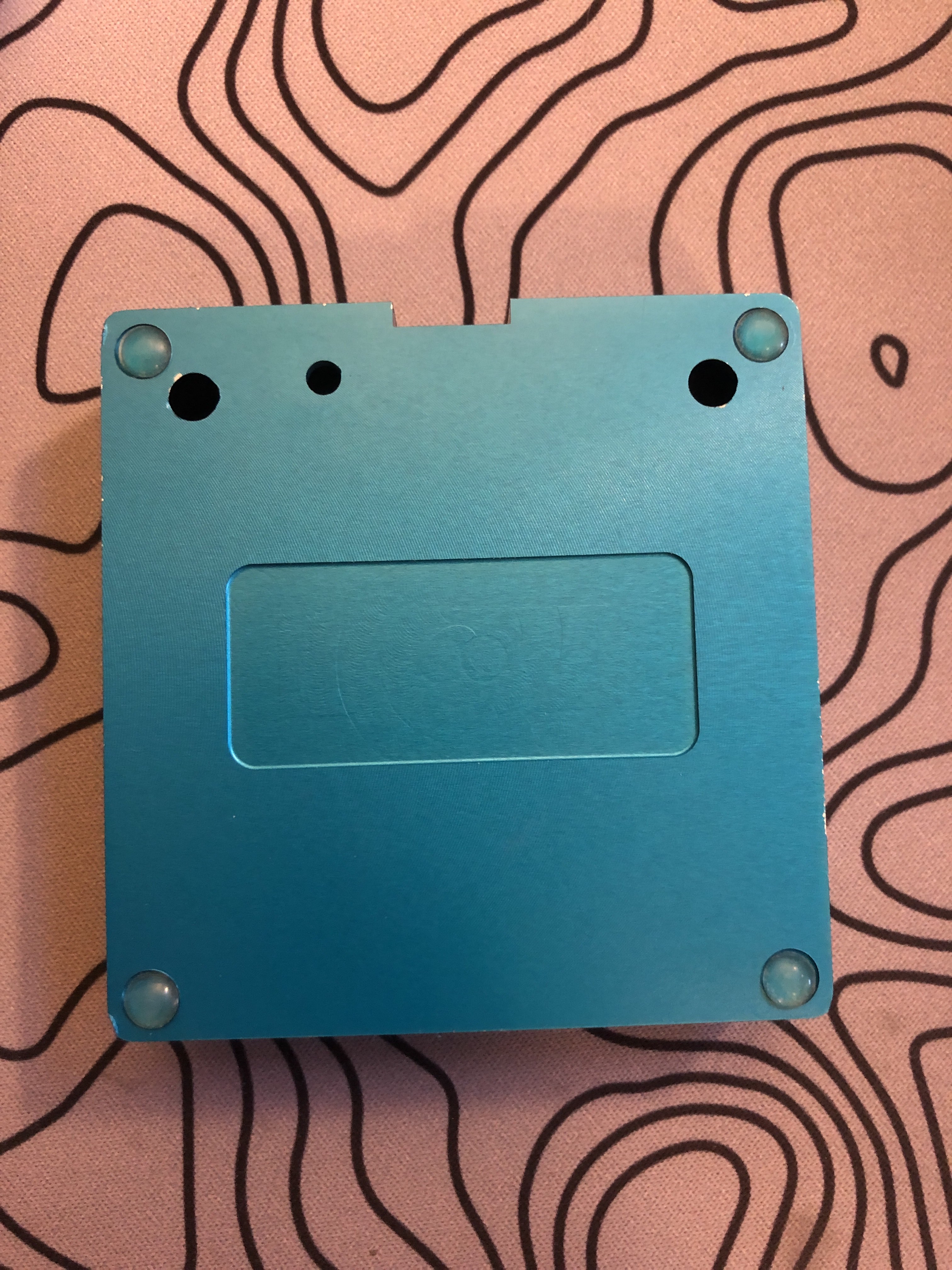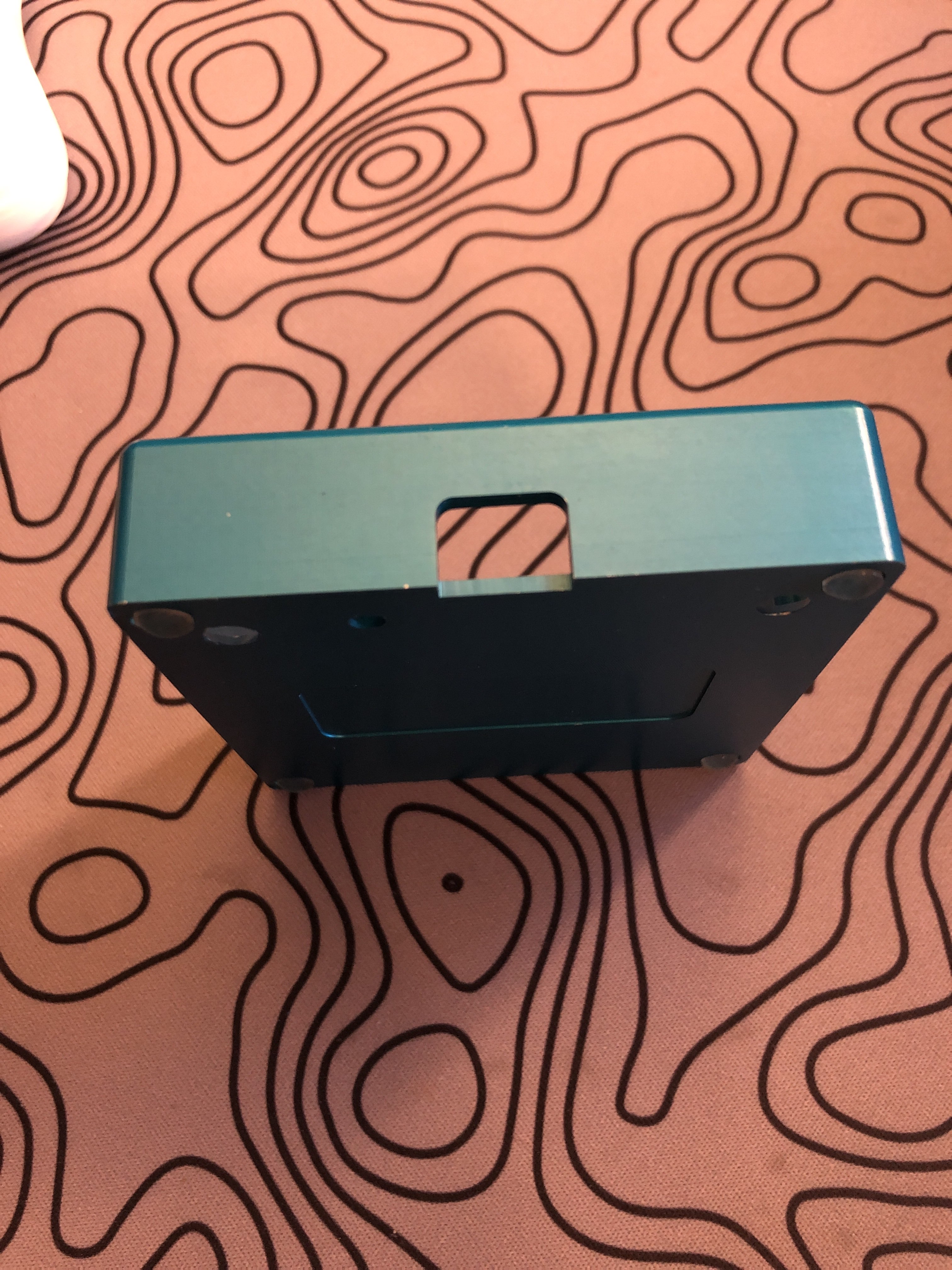 Roadkit Lite kits were sold with 3D printed cases produced by KeyboardBelle. I'll find a good pic and do a little write up eventually.
Several cases were produced from stabilized wood.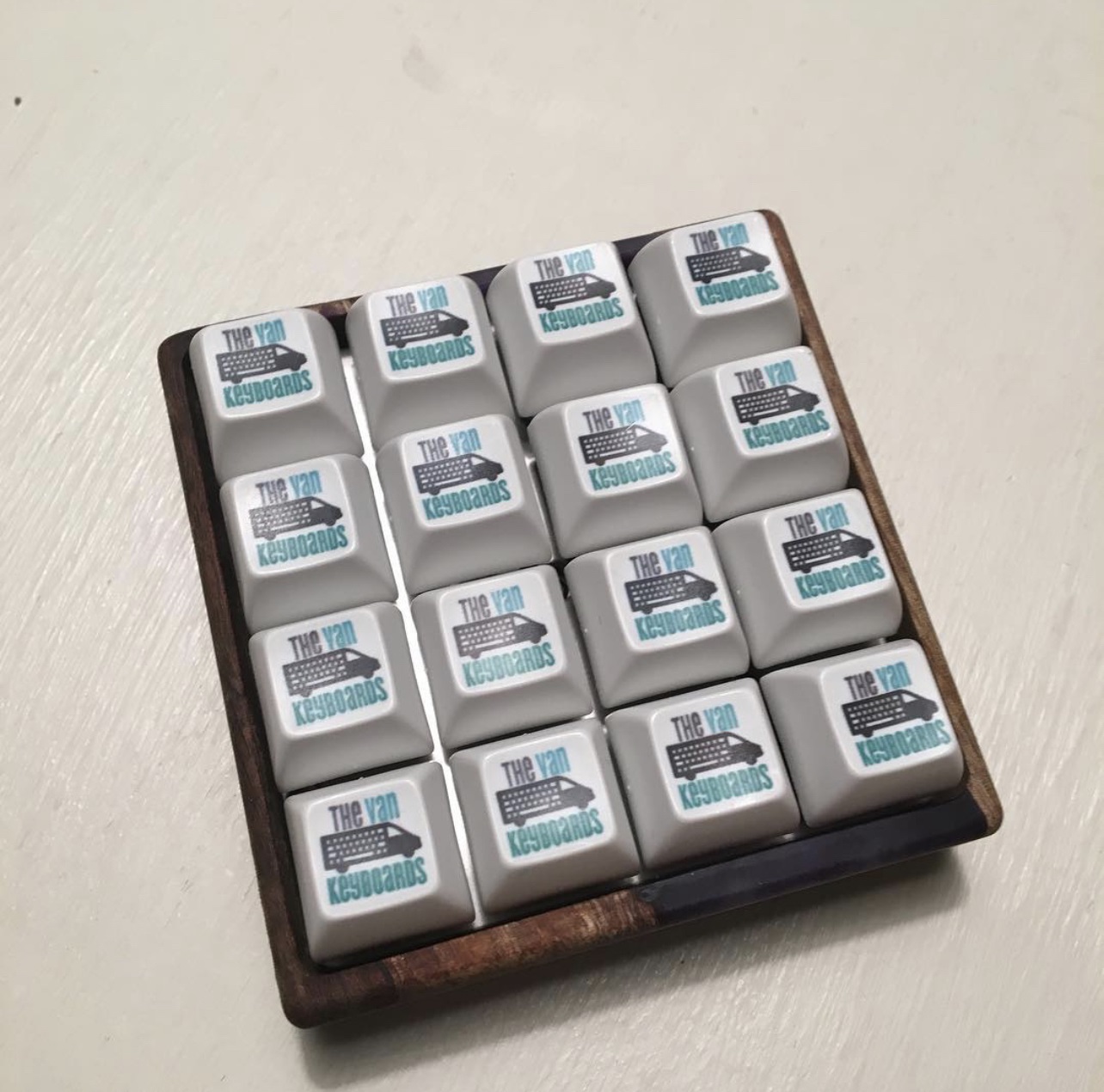 Idea23.com sold resin cases using a custom mold made from an aluminum Roadkit case.