Goon is in-stock and shipping. Pick one up for $25 here: https://trashman.club/page/goon-pcb
Goon is a MiniVan-compatible PCB that uses standard modifier keys designed by Trash Man.
Goon has no holes for tray mount cases. Check out the MiniVan Compatibility Matrix to find compatible cases.
Inspired by Minibaen, Goon uses non-standard key spacing to fit a 13u-wide layout with standard (big) modifier keys into a 12.75u-wide MiniVan case.
Goon uses variable key spacing across each of the rows to account for the additional space taken up by the larger modifiers. Only the 1u alpha keys have been squeezed together and the key spacing for the modifiers on both edges is standard to ensure keycap compatibility. The bottom row of Goon uses standard keycap spacing to guarantee compatibility with 6.25u spacebars.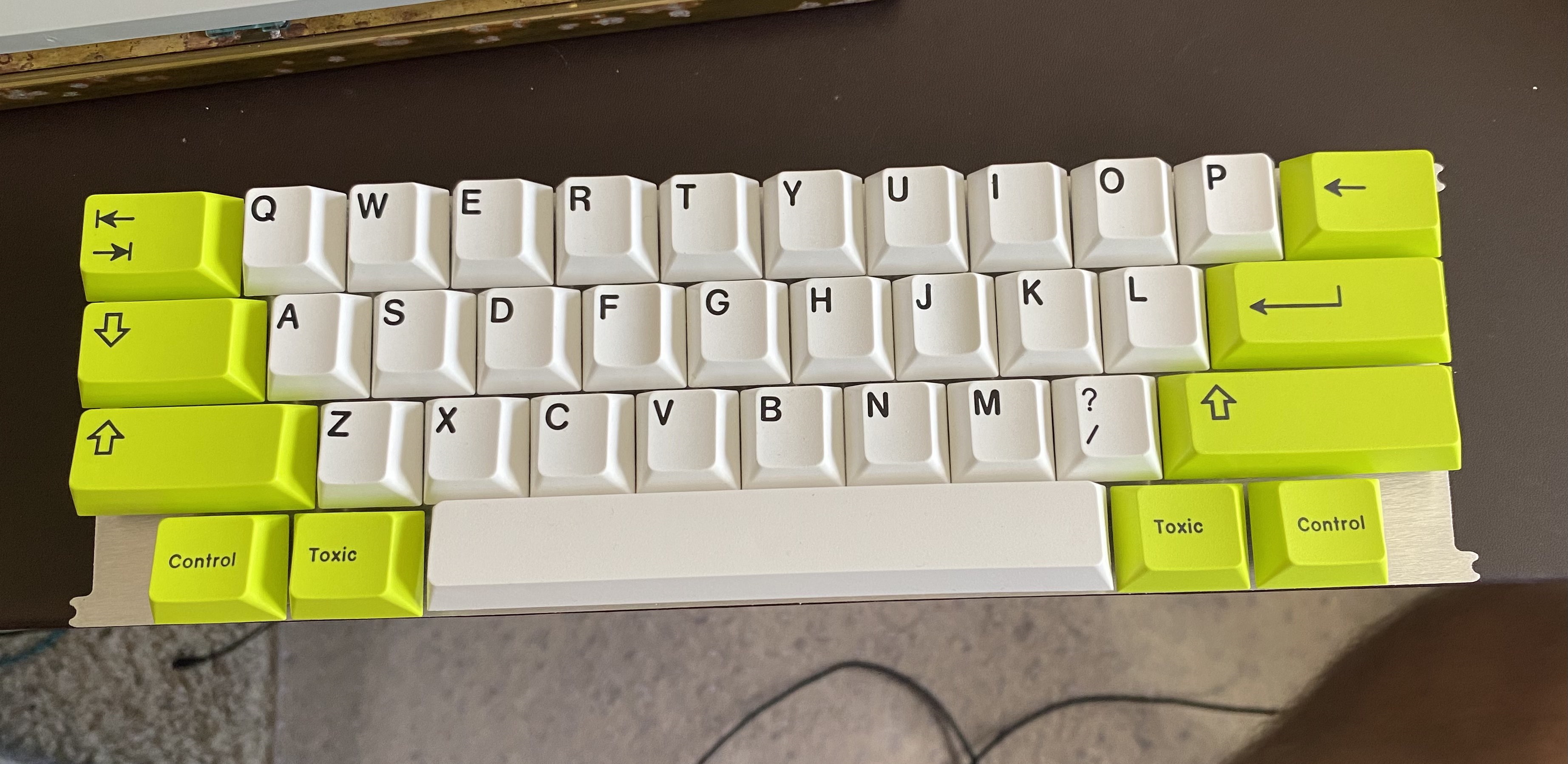 The non-standard key spacing on Goon has only been validated with GMK keycaps. This page will be updated as users test other keycap profiles for interference.
Goon supports a single primary layout with two optional modifier changes. The 2.75u right Shift key can be swapped for a split 1u/1.75u arrangement. The default bottom row layout features a centered 6.25u spacebar flanked by a pair of 1.25u modifiers on each side with small corner blockers. A full-width 12.75u bottom row is supported by replacing the corner 1.25u keys with a pair of 1u keys.

The first round of Goon PCBs were missing a trace in the design files which resulted in a non-functional PCB. After testing, the factory found the missing trace and replaced it with a bodge wire connecting the fuse F0 to pin 7 on the MCU. All R1 Goon PCBs include this factory-installed bodge wire on the rear of the PCB. It should not cause interference issues as Goon has no screw holes and is incompatible with tray mount MiniVan cases.