m3n3van is an open-source MiniVan-compatible PCB designed by community member matthewdias.
The group buy for m3n3van PCBs was run in the #m3n3van channel on the 40% Keyboards Discord server.
The open-sourced files for the PCB an be found here: https://github.com/matthewdias/m3n3van
Firmware for the board can be generated using the Configurator
m3n3van is a drop-in replacement PCB for MiniVan cases. The original concept for the board was a MiniVan layout with dual 3u split spacebars on the bottom row.
The board uses a USB-C connector to connect to the host. The port is located in the top-right to ensure compatibility with MiniVan cases.
Firmware for both revisions can be generated using the Configurator
Matthedias's fork of QMK that adds VIAL support for m3n3van is here: https://github.com/matthewdias/qmk_firmware/tree/m3n3van-vial/keyboards/m3n3van
KLE for rev1 available here: http://www.keyboard-layout-editor.com/#/gists/215ad661dbc53d6b289b8946e5d803a3
Only a handful of prototype "rev1" PCBs were produced and the supported layouts are just absolutely bonkers so I am going to provide the KLE and let that do the talking.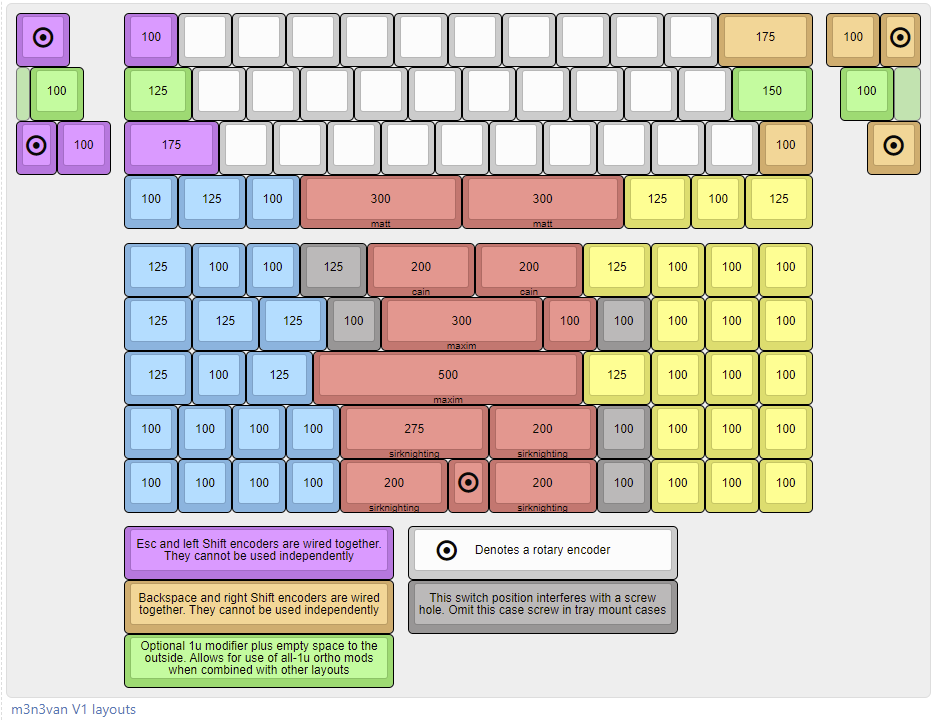 KLE for rev2 available here: http://www.keyboard-layout-editor.com/#/gists/8043f8dc3bc766188aa4bf48c72866a3
For rev2 the design was taken back to the drawing board and the layout options were distilled down to the original concept centered around a bottom row with dual 3u spacebars. A pair of encoder knobs are supported in the top-right and bottom-left corners. The knobs are wired to the same pins and cannot be programmed independently. If two knobs are installed they will share the same functions.

The rev1 PCB was seen as an exercise for the creator to continue to learn PCB design and make some unique bottom rows available that wouldn't exist otherwise. As a result it has a few issues, a missing switch location for one layout, and lots of conflicts with screw holes and traces which necessitate rotating some of the switches.


An RGB header will be added on the rear of rev2 boards below the Enter switch position. Due to interference with a switch leg, the bottom-right tray mount hole has been omitted. Production boards are covered in a white solder mask with black silkscreen. Several black prototype boards were produced.