Banana Split was a 60% keyboard sold by TheVanKeyboards that supported a unique set of layouts in a standard 60% form factor. Two rounds of interest checks and group buys were run for the board in 2017 and were sold on TheVanKeyboards.com. The PCBs were sold standalone or as a kit that included stabilizers and a stainless steel plate.
The goals of the design were to build a unique 60% PCB that would fit into existing "universal" 60% keyboard cases while offering a wide array of layout options to allow for customization. The USB port was positioned between the first two switches in the top-left corner and a reset switch was positioned on the bottom of the PCB below the USB port to ensure compatibility with 60% cases.
Both revisions of the PCB included north-facing switches with through-hole LED support for every switch position. All stabilized switch positions included holes for PCB-mount stabilizers to be installed.
Firmware can be generated using Trash Man's Configurator.
KLE available here: http://www.keyboard-layout-editor.com/#/gists/fb4efb6fa4a331d583355eaa474315d1
Both revisions of the Banana Split PCB included a shared set of supported layouts based on the standard 60% layout. Additional layout options on both PCBs include:
standard 6.25 spacebar or multiple split spacebar layouts
ANSI or ISO Enter and left Shift keys
normal or stepped Caps Lock
single 2u or split 1u Backspace
several arrow key arrangements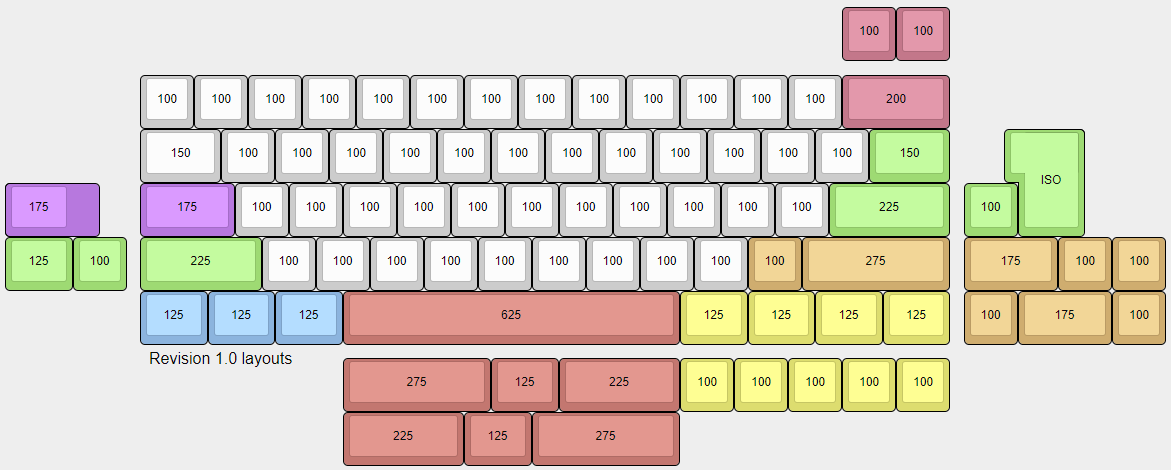 Round 2 kits shipped with updated revision 2.0 PCBs which added two new bottom row layouts that support a 7u spacebar or a 2.75/1.5/2.75 split spacebar layout

Two Banana Split PCBs were produced - one for each group buy round.
The first Banana Split PCB was covered in a banana yellow solder mask with white silkscreen. The front of the board contained no components and featured a large image of a banana cut in half along with "The Banana Split 60" in script above the banana. The back of the board contained all of the components. The board used a Mini USB connector.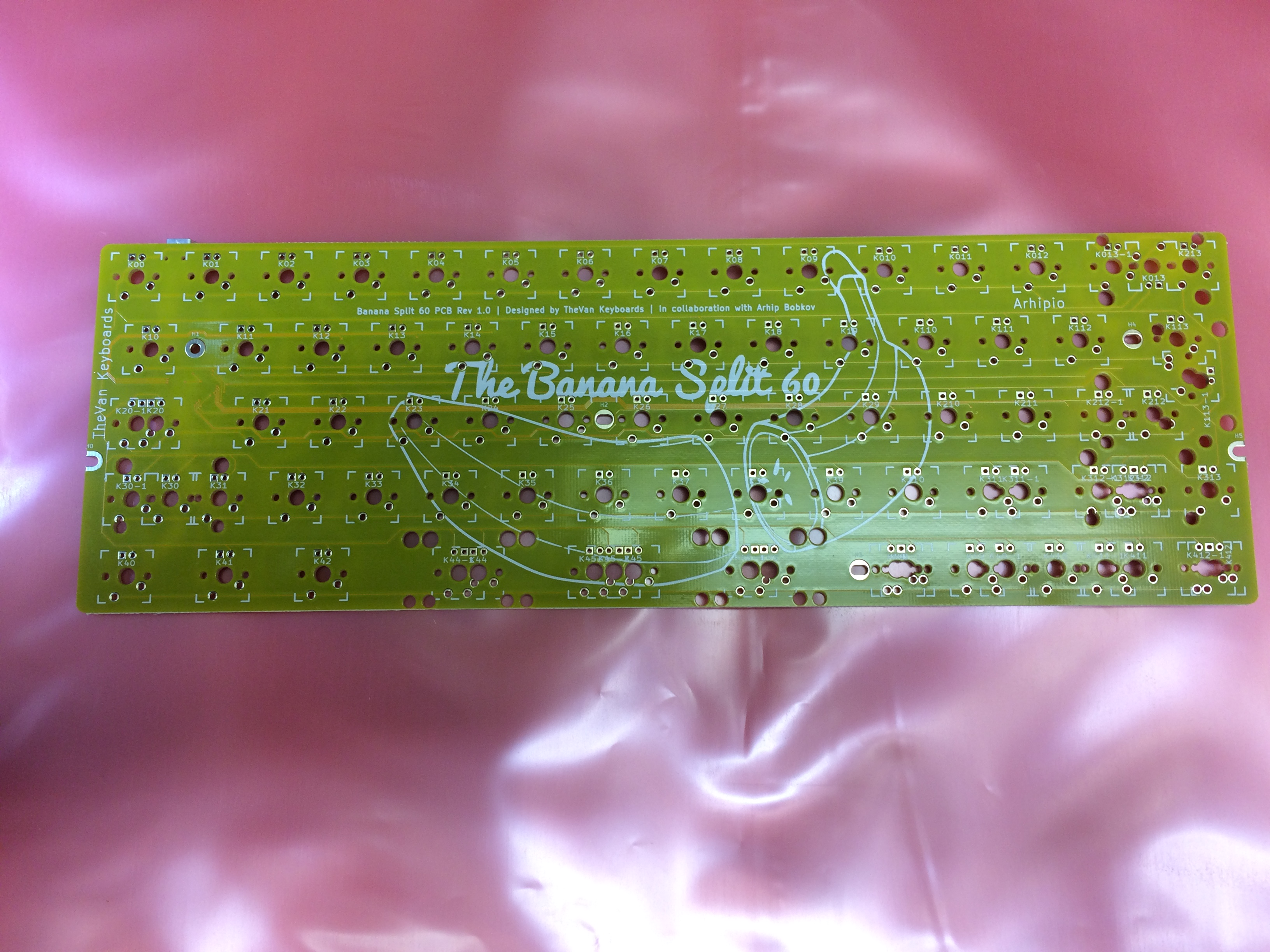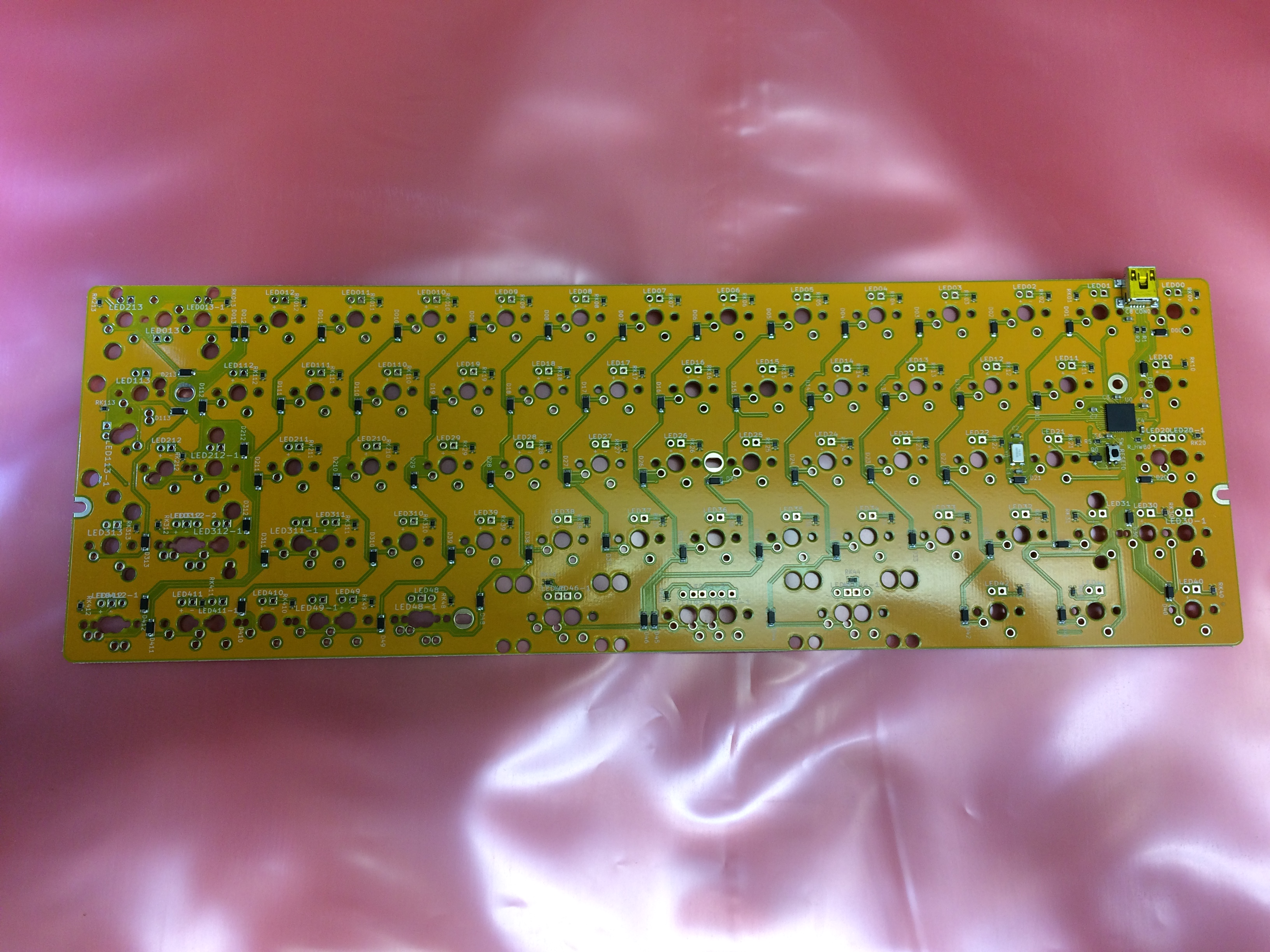 Round 2 kits included an updated PCB that was covered in a white solder mask and purple silkscreen. The banana-cut-in-half logo was replaced with the words "Banana Split" in script in front of clouds on both sides of the board. The front of the board included a small dancing banana on top of the word "Banana" while the back of the board featured a large pixelated dancing banana in the lower-left. The USB port was upgraded to USB C. The dimensions of the board were shrunk slightly and the edge mounting holes were widened to resolve tight fitment issues with some 60% cases.